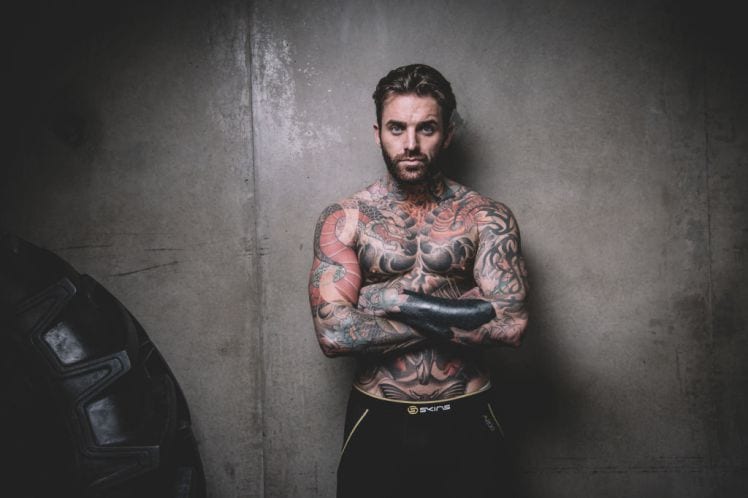 When Georgie Shore's Aaron Chalmers competes at Bellator 200 in London, he'll be fighting as a professional mixed martial artist on the biggest stage yet. But, if the reality show star has his way, a win on May 25 will merely lead to bigger competition — namely against former professional wrestler CM Punk.
In many ways, a meeting between the two feels like a natural pairing. Both men came into MMA with an already established fan-base, as well as lofty criticism and expectations. But while Chalmers started his career with UK promotion BAMMA, Punk went right in at the top level to the UFC (to much fanfare and ridicule).
Currently Chalmers stands at 3-0 as a professional, with Punk attempting to reach 1-1 against Mike Jackson in Chicago at UFC 225 in June. According to Chalmers, if he can get a big win over Ash Griffiths (4-5) later this month, he could be (he hopes) setting up a full on celebrity MMA bout with Punk in the near future.
"I understand what Punk faces and I take a keen interest in his career because I hope our paths cross," Chalmers said, writing in his column with The Sun. "I see his opponent Mike Jackson is already using mind games ahead of their fight at UFC 225. Jackson is insisting on calling Punk his real name – Phil Brooks – which takes away Punk's biggest asset; his WWE legacy and his brand power.
"That could be a great strategy because he is hurting him and frustrating him before he is even getting in the Octagon and he could do the same as he did in his first fight. I will be keeping my eyes peeled because everyone knows that is the fight I want in the future – him and Baby Slice are the big fights for me.
"If he gets beat and cut from the UFC then hopefully Bellator can get him on the phone and that is another one we can look forward to."
Comments
comments