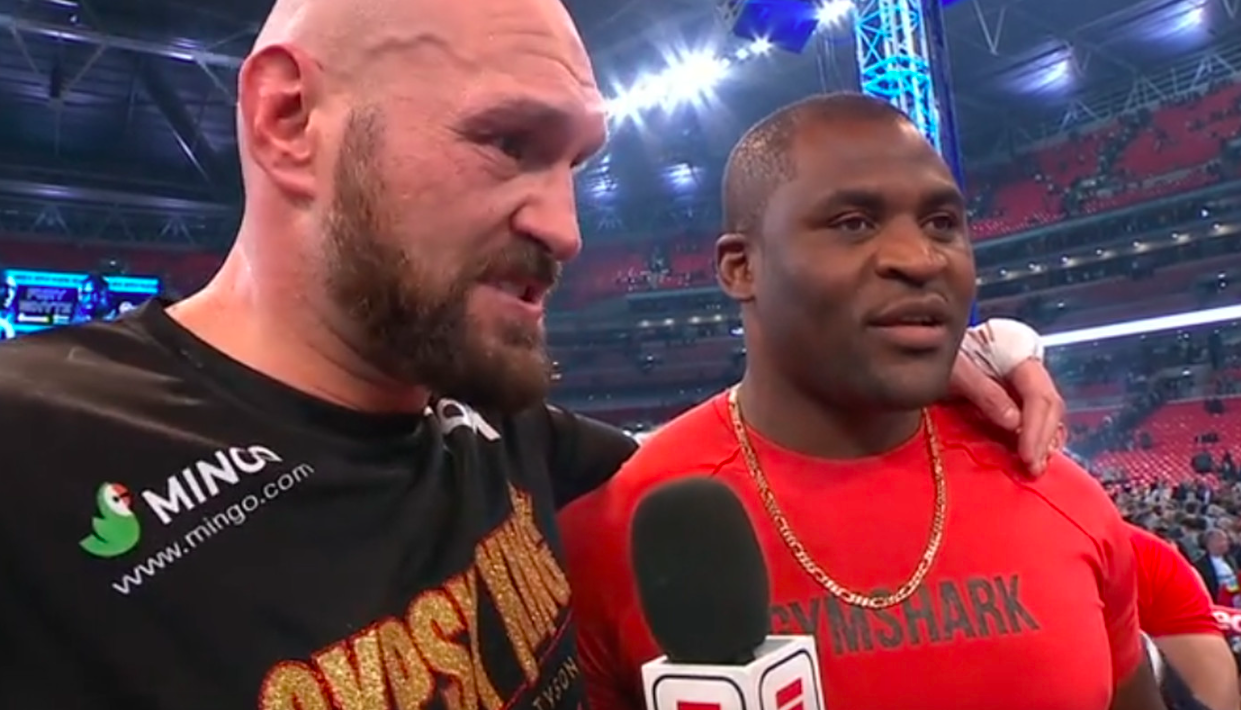 Tyson Fury will box Francis Ngannou in an upcoming exhibition, Matchroom Boxing's Eddie Hearn has claimed.
Over the course of the past 18 months or so Fury has been locked in various negotiations to take on his clients Anthony Joshua and Oleksandr Usyk; both of which fell through for a variety of reasons. Instead, Fury has scored relatively trouble-free wins in rematches with British rivals Derek Chisora and Dillian Whyte — and according to what Hearn has heard through the grapevine, his next fight will again see Fury stray away from a top-ranked heavyweight.
"Yes, I believe [that is going to happen]," Hearn said of the potential of a Fury vs. Ngannou matchup to Boxing Social, as noted by MMA Fighting.
"This is what I've heard: It'll be an exhibition, apparently — no knockdowns or anything. I don't know, I'm only telling you what I've heard. Who knows what's what, but I think that is, apparently, what is going to be the next fight [for Fury]. [It's] disappointing, but it is what it is."
The exhibition match, should it transpire, would come more than a year after Fury and Ngannou shared the ring following the Englishman's KO win against Dillian Whyte at Wembley Stadium in London in April of last year. The former UFC heavyweight champion has been linked to a host of boxing's biggest names — Anthony Joshua included — since he left the UFC earlier this year.
Ngannou has signed a contract with the Professional Fighters League (PFL) which permits him to pursue boxing matches. He is expected to make his MMA debut for the promotion in 2024.
And while Hearn says that the Fury vs. Ngannou pairing will likely draw in some big numbers, he adds that he would prefer to see Fury take part in what he describes as a more competitive fight.
"I'm sure it would be a big event, but I want to see him fight Usyk," Hearn said. "I feel like the undisputed championship, we've chased it for so long, that it would be nice to get an undisputed champion. But Tyson is in charge of his own career, and I'm sure he's got a mat load of money, and good luck to him."
Comments
comments