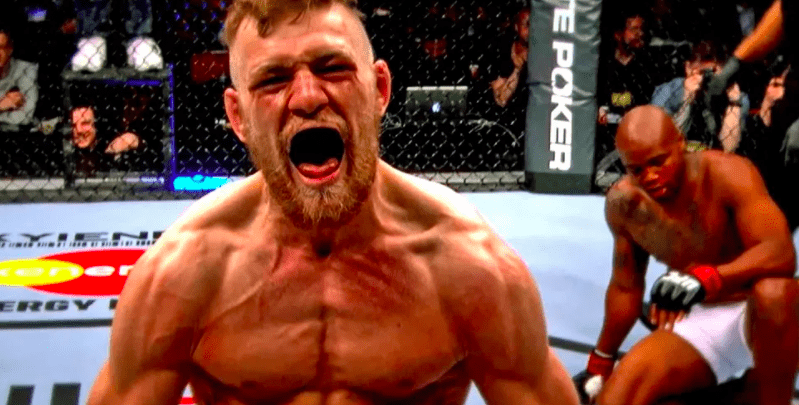 On April 6th 2013, a brash mohawk-sporting Irishman stepped foot into the UFC's octagon for the first time in Stockholm, Sweden. 67 seconds after referee Robert Sundell beckoned him forward, Conor McGregor knocked out Marcus Brimage and in doing so set into motion one of the most meteoric rises in mixed martial arts history.
In the years which followed, McGregor has assembled a list of achievements unparalleled by anyone who came before him. He has held UFC gold in two weight divisions simultaneously (the first fighter to ever do so) on his way to becoming the UFC's most bankable star. Gate and pay-per-view records have been broken and broken again throughout his UFC run.
All of this, though, was set into motion one Saturday evening in the Ericsson Globe Arena but the story stars a few months before that.
In early February of 2013, Conor McGregor signed a deal to become the first Irishman to compete in the UFC since his friend and training partner Tom Egan four years prior. McGregor, 12-2 at the time, had recently claimed the Cage Warriors lightweight title with a stunning one-punch knockout of Ivan Buchinger to add the featherweight title he won the previous June. Buzz was starting to reach fever pitch in MMA circles across the globe about this young Irish kid with the incredible left hand, particularly when the Buchinger knockout went viral.
Joe Rogan even reached out to McGregor, tweeting: "I just caught your fight, Conor. Congratulations, you looked sensational! Hope to see you in the UFC someday. Best of luck!"
View this post on Instagram
Just days after McGregor signed with the UFC, Dana White appeared at Dublin's Trinity College to receive the Honorary Patronage of the Phil and, as White later said, everywhere he went people only wanted to talk about Conor McGregor. White, who later admitted he incorrectly assumed McGregor was a heavyweight, would soon come to learn for himself the extent of McGregor's unique capabilities.
"He's a penny stock that couldn't have worked out better," White said to Esquire. "He's one in a million. He has that thing that you can't teach people, whatever it is that makes people gravitate toward you. He has that more than any fighter I've ever met. He makes you believe everything he believes."
When McGregor arrived in Sweden for his first UFC fight, the already difficult weight-cutting process to 146-pounds was exacerbated by a tooth infection which had developed on fight week. He couldn't open of close his mouth past a certain point. Sleep was impossible. Hardly the ideal preparation for a prizefight.
"It was just another thing", McGregor said after the fight. "Nothing could've stopped me in there. I wasn't going to be broken. It was just another thing. Adversity causes some men to break and other men to break records. I chose to be the second one. That's the way I looked at it. I looked at it as another challenge and fuck the pain. It's only a tooth at the end of the day. I got through it."
By the end of the bout if anyone was going to need dental work, it was Marcus Brimage. A series of uppercuts just past the minute mark brought the fight to its conclusion but it was McGregor's post-fight statements demanding a post-fight bonus of "60 Gs baby!" which really served notice that this guy was a little different to everyone else.
Interest in McGregor intensified immediately after the event. The UFC invited him to appear in the official post-fight press conference, a move almost unheard of for a fighter who appeared on the undercard. The Irishman spoke candidly, detailing the struggles a young fighter has when trying to make a breakthrough, echoing the overall feeling in his home country of Ireland where an economic recession threatened the livelihoods of his generation.
"I feel like I'm stealing the show, I feel like I've stole the show, I've stole everything", McGregor said to the media. "I'm going to steal all the money from the UFC and hightail it back to Ireland. Fuck the recession!"
There is no denying that McGregor stole the show that night in Sweden. His grip hasn't loosened since, either.
Comments
comments