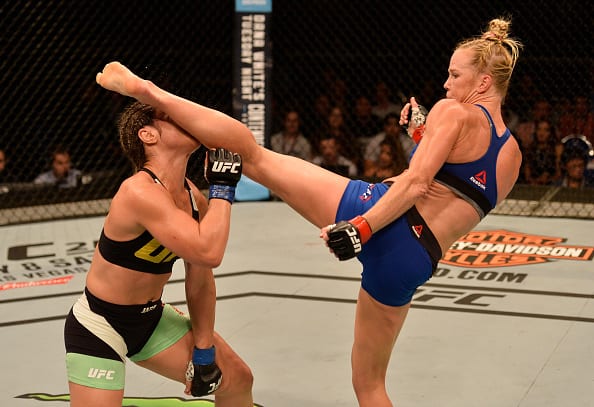 The next time the UFC puts on a show, it'll be doing so with one of the biggest women's fights in history.
At UFC 219, Cris Cyborg will defend her UFC featherweight title against Holly Holm, in what promises to be one of the most anticipated clashes in women's MMA history. It marks Cyborg's biggest test of her career, and offers Holm the opportunity of being the first female MMA fighter to hold two UFC belts in two divisions.
Throughout her career, Cyborg had been one of the more terrifying forces in mixed martial arts. For years, she was the highest profile female fighting in cages, and despite reoccurring issues with the UFC, was eventually brought into the promotion. Debuting at UFC 198 in Brazil, Cyborg met the game and brave Leslie Smith, finally given a platform to perform on the biggest stage.
Similarly to Cyborg, Holm also made a name outside the UFC before heading to the big time. A world class boxer, Holm fought 38 times in the ring before eventually moving over to mixed martial arts permanently. Her most famous moment, of course, is a stunning win over the previously unbeatable Ronda Rousey, with a head kick that shook the sport completely.
Most recently, Holm hit a similar maneuver on Bethe Correia in Singapore, putting her on the track to a title shot.
–
Comments
comments