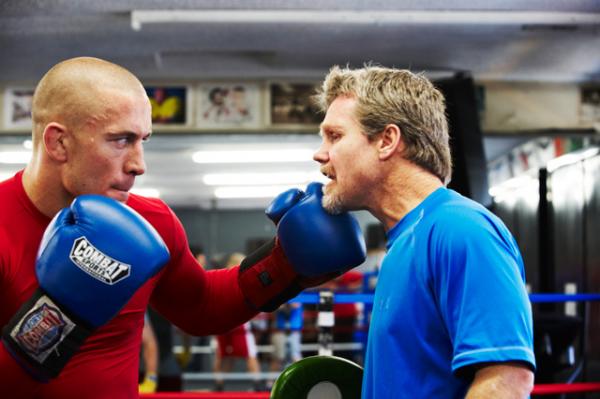 Georges St-Pierre is the UFC middleweight champion. Not words many thought they would be saying when the Canadian walked away from the sport of mixed martial arts in 2013.
And yet, here we are, with St-Pierre having defeated Michael Bisping via submission last Saturday at UFC 217. With St-Pierre being transported to hospital immediately after the event, the question has yet to be answered — what does he want to do next? According to UFC president Dana White, St-Pierre has already agreed to defend his new title against interim middleweight champion Robert Whittaker, who himself us pushing for the contest.
Those closer to St-Pierre himself though, are more interested in seeing him back at familiar territory. For instance, according to his coach Freddie Roach, who was in the corner of his first MMA fight ever on Saturday, he'd rather see St-Pierre drop back down to 170-pounds where he initially reigned supreme.
"I think I would like to go to the lower weight division, back to the weight that he's more comfortable with and more used to," Roach said on Monday's The MMA Hour. "But the thing is, that might not be available at this point. We do need to work that out with the promoter. One thing about UFC, usually what they say goes. Conor McGregor wants to be the boss now, wants to be the promoter or co-promoter, from what I've read about him and so forth. But he does have the contract and I'm sure he has to follow it like everyone else."
It's true there is intrigue to see St-Pierre back at welterweight. In his first run four years ago, St-Pierre dominated the 170-pound division and become undisputed as the greatest fighter in that division's history. During his fight with Bisping, St-Pierre — who looked considerably large at 185-pounds — appeared to tire out somewhat towards the end of the second and in the third. It was a symptom of the extra weight many were expecting.
"I think it was the weight that got to him a little bit," Roach said. "He's not used to carrying that much weight. I think it did kick in a little bit quicker than usual. Again, we'll work everything out and all get together and discuss what's the best move next for Georges.
"I want to just map out everything. I think we all need to get together as a team and make that decision as a team decision. I'm not the only one there and I want to see what everyone else thinks and so forth, what their thought patterns are on it. There's always plusses and minuses, negotiation. We have to work this out with Dana, of course. The promoters themselves. I won't make that decision myself. I need a little help with the other guys, I need to get their input also. Georges' input is the most important to me, though."
All in all, however, it's hard to be too unhappy with a winning performance. Particularly since the fairly unanimous expectation that St-Pierre's striking wouldn't be a match for Bisping's.
"We weren't supposed to be the better boxer than Bisping," Roach said. "He was supposed to be a better boxer than we are, but Georges proved that to be wrong in the first round. He outboxed him really, really well and the overhand right was working really, really well."
Comments
comments