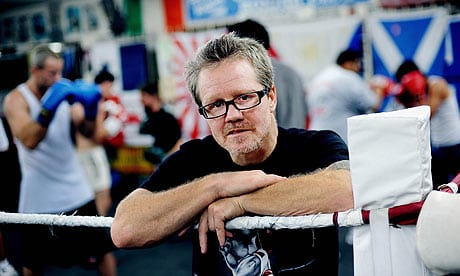 Freddie Roach is, by any measurement, a legendary coach in the boxing world. But at UFC 217, the pugilist export will be heading over to new grounds, and will be corner Georges St-Pierre in the Candian's return to mixed martial arts. 
Much has been made of Roach's involvement in St-Pierre's camp, not least of all by GSP opponent and middleweight champion Michael Bisping. Roach's stand-up credentials speak for themselves, but obviously the UFC brings with it a few more aspects than the traditional 1-2's of boxing. Some believe that Roach being cageside proves St-Pierre is preparing for a more striking based offence — something few would recommend given Bisping's usual aggressive kickboxing abilities.
For Roach, it's all a learning curve, and one he's calmly enjoying.
"I've never been an elite MMA trainer, but Georges made me promise I would work his corner and I'm holding up to that," Roach said, speaking with ESPN. "This might be a little different than boxing, but it is combat sports and I know how to fight. I used to be a wrestler in high school. I was never a great wrestler but I have an idea on it and watching it during camp has given me a better idea. Everyone in the corner is real friendly with one another and I will give the best information I can in there on fight night, and it won't be strictly boxing."
Maybe it's because he knows something few else do, but Roach certainly isn't sweating Bisping's chances. Some believe that St-Pierre's simply too small for his new home of 185-pounds, particularly against a man the size of Bisping who's previously fought at 205-pounds.
"Everyone is talking about Bisping's size, but I say, 'Hey, I love fighting big guys,'" Roach said. "Tall guys give you a bigger target obviously, and are a lot slower. I think this guy is made for us. He says he doesn't think we can outbox him. We can and we will outbox him. If a [standup fight] happens, then is happens. But the thing is, if we have other opportunities to do things Georges is more accustomed to doing, we will do that.
"Believe me, we're not going to be like Ronda Rousey, where someone told her she was a good boxer when she was winning every fight of her life on the ground. I'm not going to lie to my fighter. We've been working on everything and will take advantage of everything."
Comments
comments