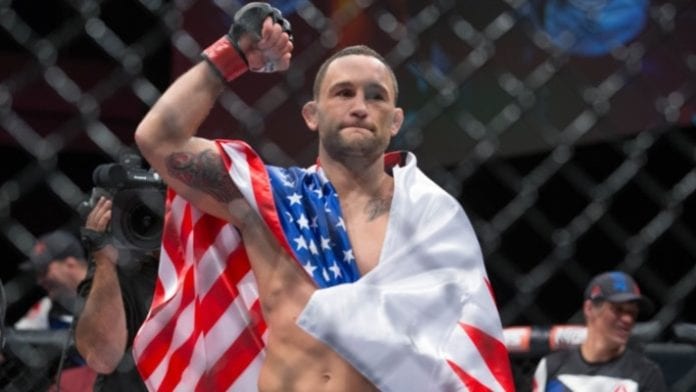 It took (far) longer than he anticipated but Frankie Edgar finally has the featherweight title shot he has been craving since losing his first attempt at the strap in his 145-pound debut at UFC 156 almost five years ago.
For the first time in his two featherweight championship bouts (the other was a July 2016 interim title bout), the Tom's River, New Jersey, native will face a fighter not named José Aldo with a UFC title on the line. The twist? He will face Max Holloway, the only person to have ever defeated Aldo on two separate occasions.
Edgar was due to face Holloway for the title late last year but an injury suffered in training delayed his plans, allowing former champion Aldo to step in for an ultimately unsuccessful rematch with the Hawaiian. At UFC 222 in March, the 36-year-old Edgar will finally get his opportunity to add the 145-pound to the lightweight title he last held in 2012 and, after so many false starts at featherweight, Edgar believes that the time is finally right this time around.
#UFC222 has a main event! And we have all of the fights you need to watch to get ready!@BlessedMMA vs @FrankieEdgar!https://t.co/a1PwOGWIDy pic.twitter.com/kQEm5uIjwj

— UFC Fight Pass (@UFCFightPass) January 9, 2018
"I have so many reasons why I feel like this is meant to be," Edgar said in an interview with FloCombat. "I obviously wasn't thinking that way or being that optimistic when I got my face broken in practice. It felt like the world was crashing in around me, but I'm very happy things all still worked out because it all could have gone a much different way.
"Despite the things that happened everything pretty much stayed on track and I was able to still get this fight. That's why I feel like it's already written. I just have to go in there, follow through and make it happen."
Throughout Edgar's 28 fight professional career, he has only been bested by three men — Gray Maynard (since avenged), Benson Henderson and Aldo and in his five professional defeats, four of those have come in title bouts. This time around, Edgar feels that all of the pieces are falling perfectly into place.
"We are eight weeks out right now and that's perfect," Edgar continued. "I was initially hearing the fight may go down in April, but was happy to hear it is going down in early March. I got the word and said, 'Let's go!' It's obviously unfortunate how things worked out in the last camp, but I'm going to get there this time and get the job done.
"I was definitely excited to get the news and set this year off right. I'm good and ready to go. I had a great day today in training. I got promoted and earned the first degree on my black belt and Marlon Moraes earned his black belt today as well. It was a great day for our team and there's a lot of good energy in the gym right now."
MMA mathematicians will likely declare that the fact that Edgar has lost to Aldo twice — a fighter defeated the same number of times by Holloway — means that the odds are stacked against him this time around. Edgar, however, is having none of it.
"Styles definitely make fights and I love this matchup," he said. "I'm hearing these people on the internet talking and asking how I'm going to beat him when I lost to Aldo. MMA math doesn't always work that way. I'm confident in my skills and I truly believe I'm still improving with each performance. I think that showed in my last fight because that was one of my strongest performances. I'm ready to go out there and have a defining fight with Holloway and he's the perfect guy for me.
"He's going to bring it. I'm not going to have to look for him out there and it's going to be an exciting fight that's for damn sure."
Comments
comments