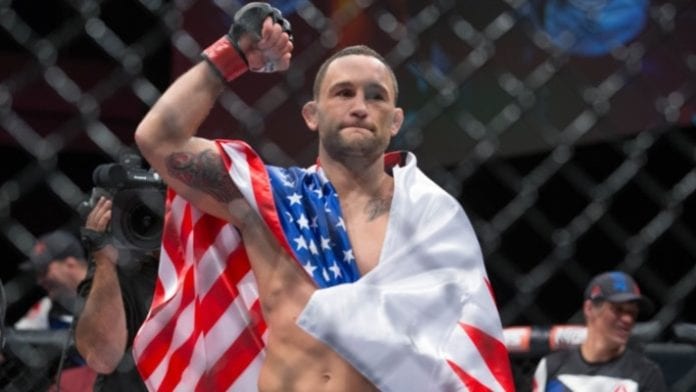 When Frankie Edgar got knocked out — for the first time in his career — by Brian Ortega in Las Vegas, it looked like a bad one. 
Edgar was literally lifted off his feet with a brutal uppercut, and the fight was called to a halt. While Edgar is known for his toughness, most believed the best thing for the former lightweight champion to do would be to take a lengthy period away from the cage and recover.
Edgar, it turns out, had other plans.
The New Jersey native took a quick turnaround fight with Cub Swanson, scheduled for April 21 (in New Jersey). It's safe to say fans and pundits are a little nervous about the sudden return. For Edgar, it's definitely a risk, but one he's ultimately willing to take.
"I know I'm getting flack from people and you guys have shows on whether I'm taking this fight too soon or not — and that's fine," Edgar said, speaking on MMAFighting's The MMA Hour. "That's part of it. and I know what I'm putting on the line here, and I feel comfortable doing it, so I'm ready to go prove people wrong here.
"I'm the one in there. I'm the one putting it on the line, and there's nothing like getting in there and getting a win to erase that last loss. And again, it'll never erase it, but at least it'll kinda help deal with that stink, and like you said, give me something positive to kinda focus on instead of focusing on the negative."
There's reason for fan nerves. The last time a fighter as highly ranked as Edgar lost and accepted a quick turnaround was Michael Bisping, who fought Kelvin Gastelum just a couple of weeks after losing his middleweight title to Georges St-Pierre. Bisping lost that fight with Gastelum via a brutal knockout.
Certainly, Edgar knows where the fans reservations come from. He just can feel something in the air that they can't. For instance, he feels the knockout loss wasn't as bad as it looked.
"I totally get it, yeah," Edgar said. "You see it with other guys, but I just feel like I'm different, a little different. And again, I'm not an idiot. I'm not going to put myself in harm's way if I feel like it's not the best thing for me, but like I said, I wasn't turned off and I definitely didn't — I was rocked, I was rocked, I'll give [Ortega] that, but I wasn't that bad."
Comments
comments