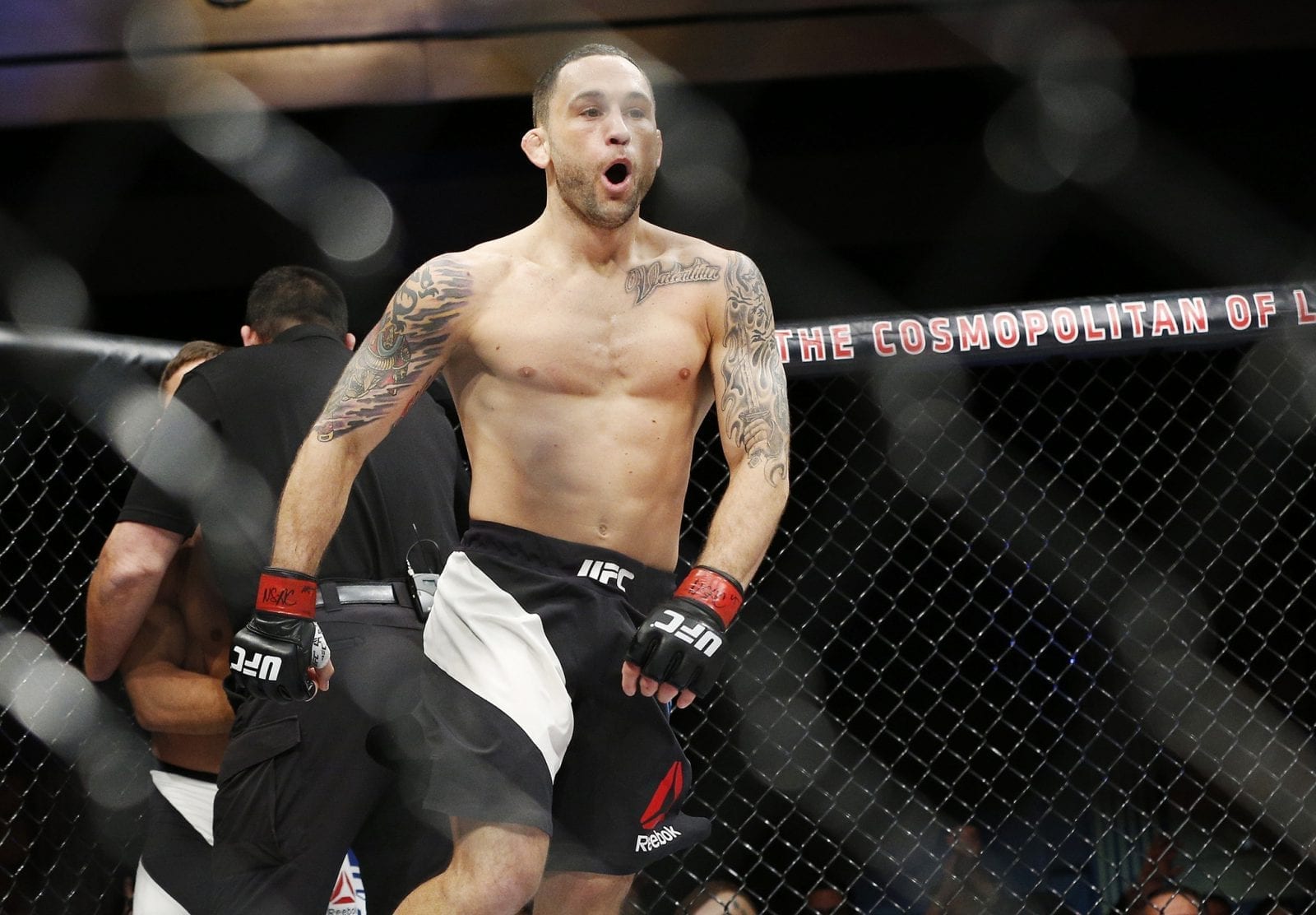 The latter part of Frankie Edgar's career has been at least partially defined by his pursuit of the UFC featherweight title.
Having previously held the 155-pound title between 2010 and 2012, Edgar knows exactly what it takes to become a champion in the UFC but since his drop to the featherweight division in 2013 the title has eluded him. Twice he has fought for a featherweight title in the UFC and twice he has come up short. Both of those times, the name José Also was listed with a 'W' beside his name.
So when Max Holloway defeated Aldo for the undisputed 145-pound belt last summer it presented Edgar with a brand new opportunity. In Holloway he would face a fresh opponent, someone who doesn't hold the psychological edge of a victory over him in a prior meeting.
Their first meeting, scheduled for December of last year, was cancelled after Edgar sustained an injury in training. The second attempted pairing of the two was supposed to happen at UFC 222 had it not been for another injury, this time suffered by the champion.
Frankie Edgar, it seemed, could not catch a break.
One option which has proven popular among fighters in a similar situation has been to sit out, to wait patiently for the champion to heal up and focus on renewing the rivalry at a later date. For Edgar, though, that wasn't an option this time around.
Having fought just once last year, a win against Yair Rodriguez which earned him the title shot, Edgar wasn't content to sit out any further and waste more months of what is a finite career.
Edgar, who turns 37 later this year, will now face the undefeated prospect Brian Ortega in the co-main event at UFC 222 in Las Vegas on March 3rd knowing full well that a defeat will likely put a halt to any immediate title talk — possibly for good.
Explaining his thinking to Ariel Helwani on Monday's edition of The MMA Hour, as reported by MMAFighting, Edgar said: "Man, I haven't fought since May. I just didn't want to wait.
"Time's ticking and I want to get in there. Last time I got [injured], I think, three weeks before the fight, so I have a bunch of camps under myself and no fight to show for it, so I just want to go in there and put my skills to use. I only get paid if I fight, so I definitely want to get in there.
"I'm glad it was Ortega, because it makes the most sense. He's number 3, right under me, and that actually makes the most sense for the division. But yeah, at that point, man, I was just wanting to make sure I had someone to fight."
Edgar appears aware of how risky a move this could end up being. Ortega, as Edgar says, is the third ranked fighter in the division and Edgar's unwillingness to sit on the sidelines any longer has handed 'T-City' the biggest opportunity of his career and, in all likelihood, he will surrender his title shot to the younger fighter with a loss.
"He's game. He's about as game as it gets," Edgar said of his upcoming opponent. "He's not scared to sit there and throw with the best of them. He's got a very slick guard, dangerous jiu-jitsu game. So he's a dangerous opponent and I've got to give him credit to jump on this fight on short notice. But I think he got a new contract, he could take my spot, so he has a lot of things on the table that could get going for him too.
"Holloway's no joke either on his back and with his submission game, and their body types are very similar, so it wasn't too much of a change," Edgar continued. "And I've got Ricardo Almeida and Mark Henry in my corner always adjusting things as we go, so I know I'm confident in my preparation and what these guys have been working on.
"I take pride that I win when people don't think I'm gonna," Edgar said. "I don't think like, 'Oh, I'm going to ruin this guy's plans,' or anything like that. I just want to make sure my plans stay intact, and that's what I do: Go out there and just try to win fights. I don't care if I'm fighting a guy that I'm supposed to beat, not supposed to beat, younger, older. The objective is still the same, I want to go in there and win."
Comments
comments