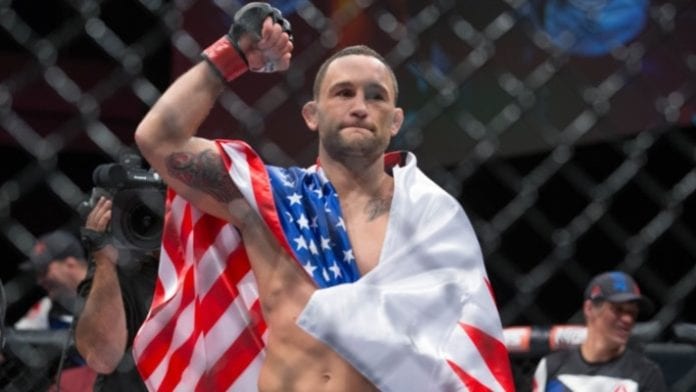 Frankie Edgar is a shoo-in for the UFC Hall of Fame when he one day hangs up his gloves — but the former UFC lightweight champion isn't sure when that day will come, or if it has even arrived already.
New Jersey's Edgar, now competing in his third UFC weight class, is one of the more beloved fighters on the UFC roster but now 40-years-old, the ravages of age seem to be taking their toll on him. Last weekend's defeat in Madison Square Garden to Marlon Vera was Edgar's fourth loss in his past five outings and there had even been speculation that 'The Answer' would lay down his gloves on the canvas regardless of the result at UFC 268.
But the truth is, Edgar hasn't made any decisions on his future.
"Everybody's going to bring up the f*cking retirement and this and that, and I'm not gonna answer it because I don't know what it is, honestly," Edgar said to the Champ and the Tramp podcast, via MMA Fighting. "I just want to know, when I do retire, I'm never coming back. I'm not ready for that yet. I'm not ready to make that decision yet.
"But this is probably the first time after a fight where I'm not thinking about my next fight. I'm not thinking about getting back in the gym. I know I'm never gonna stop training no matter what I decide, and I will be back in the gym soon just because I'm addicted to that. But I'm not thinking of it, and this is the first time probably in my fight career that that's happened."
Edgar was caught with a highlight reel KO in his bout with Vera but says that he was happy with his performance in what was a competitive fight until then.
"I know I've got a lot left to give this sport in many ways, like my spirit doesn't want to be done, that's for sure," Edgar said. "I feel like I can still do this at a high level. I was doing that at a high level two nights ago and got caught with a good shot.
"But I don't like being on this end, and it seems like I'm here often, as of late. So I'm being real about it, but I'm not gonna make a decision. I don't know if I'll ever be the guy that goes out and f*cking announces he's retiring, I don't know if I could do that. I don't know if I'll be the guy a year from now that's like, I want to fight. So I'm just not gonna make any f*cking announcement.
But when it comes down to it, Edgar says that his career in the cage will speak for itself and that there is no danger that he will ahve outstayed his welcome.
"Everyone asks, 'What's your legacy? What do you want your legacy to be?' I make up some sh*t because I don't know what it is. I don't know what I want my legacy to be. I go out there and I f*cking put it on the line, I put my heart into everything, I f*cking prepare 100 percent of the way. But is that legacy? If that's what I'm defined by, then I go out there again and I'm gonna put my f*cking heart on the line again and I lose again, I'm tarnishing my legacy? How am I tarnishing that?"
Comments
comments