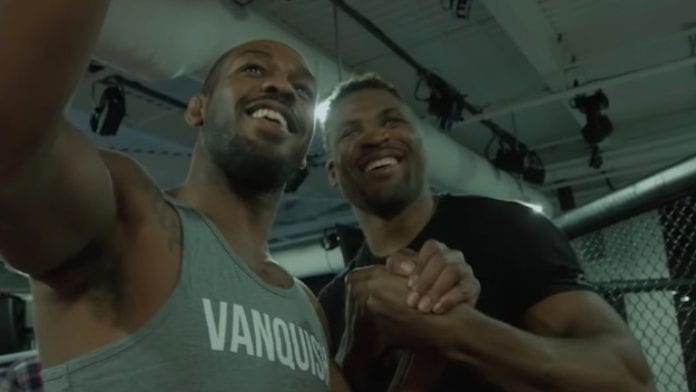 Francis Ngannou has Jon Jones' back. While wanting to fight him.
Yesterday, Jones revealed he and the UFC were engaging in negotiations regarding a move to heavyweight to meet Ngannou in the Octagon, only for things to end before they started after the promotion apparently refused to talk a pay rise.
"Honestly, I'm just in a spot where I'm shocked," Jones said, speaking to John Morgan. "I feel like the UFC have told me and my management team for years that if I ever wanted to reach a certain level in the sport and really get to a certain level of pay, that I had to take the really big fights, and I had to kind of step out of my comfort zone and be willing to take those megafights – and specifically, the heavyweight division.
"The UFC clearly told me that they would redo my contract the day I went heavyweight, and it would be a different deal, so I've always held that in my back pocket, that my goal is to fight at light heavyweight for a long time until I got to a place that I've got nothing else to prove, and then retire as a heavyweight with some real big fights – risk putting it all on the line against these guys that could cause some serious damage. Thursday, I found out that that's just simply not happening, and it's upsetting. I feel like someone's put a little bit of a limit on my ceiling."
Apparently, Jones' potential opponent feels the same way.
"In my opinion, the UFC aren't willing to make this Jon fight happens or at least for what it worth," Ngannou wrote on his social media. "No title fight, no super fight, who knows when going to be my next fight. Hope it's not in another 11 months or so."
In my opinion, the @ufc aren't willing to make this Jon fight happens or at least for what it worth 💰

— Francis Ngannou (@francis_ngannou) May 22, 2020
2) No title fight, no super fight, who knows when going to be my next fight 😤. Hope it's not in another 11 months or so. #ThisIsSucks

— Francis Ngannou (@francis_ngannou) May 22, 2020
–
Comments
comments