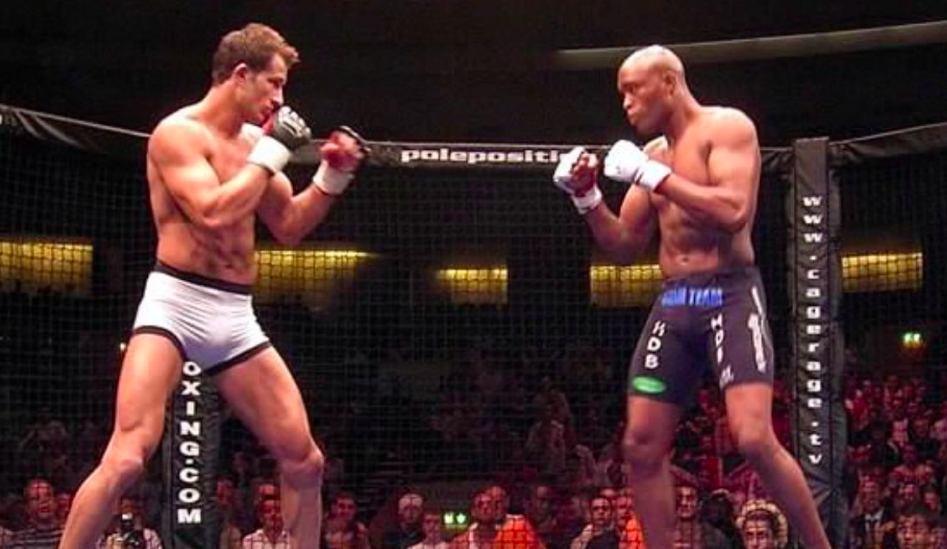 To many, 'Lightning' Lee Murray is the stuff of legend. 
The British former UFC fighter, who was once described by Dana White as a "scary son of a bitch", is an oft-told tale within mixed martial arts, and especially to those who he trained alongside with at London Shootfighters. He was the man, if the tale is to be believed, who knocked Tito Ortiz out cold during a street fight when things got testy following a UFC event in London — but amid all the stories about Murray (and there are a lot), by far the most notorious was his involvement in the multi-million pound Securitas depot robbery in June 2006, two years after he fought future Octagon icon Anderson Silva (a picture of which you see above).
The robbery was the biggest single heist in the history of the United Kingdom (and the second biggest on the entire planet) when a gang made away with £53 million, while abandoning tens of millions that — quite literally — they couldn't fit into the getaway van. Murray was eventually apprehended in Morocco, along with other members of the gang, where he was eventually sentenced to 25 years in prison, though many questions still remains with £32 million from the robbery said to remain unaccounted for.
Murray, who is now 45, has participated in a Showtime documentary called 'Catching Lightning', has finally lifted the lid on his role in the robbery after more than 17 years of silence from his jail cell near Rabat.
"I didn't have control over it. I weren't the one to come up with the idea, I weren't the one who knew where the depot manager lived," Murray said of the robbery, which involved kidnapping members of a security official's family as collateral to gain access to the cash depot. "I weren't the one who knew what car he drove. I wasn't the one who had someone who worked on the inside. You know? How can I be the mastermind? It was never my idea.
"This robbery was happening whether I was involved or not. It was going down. My role was no more than anybody else's," Murray explained.
The robbery began when Murray and other members of the crew pulled a security guard over on the road while posing as police: "Then we said to him 'Listen, we're not real police. Just do as you're told, do as we say'. Obviously, we showed him we had a gun with us." He added that they soon discovered the security guard had a young child but "we'd gone too far to turn back".
Murray is due to be released from prison in 12 years when he is 57, at which point he says he wants to get back in mixed martial arts by opening a gym.
"My plan is to open up my own gym," he said. "It depends obviously when I get out of here. If I can't fight then I'm obviously going to still be involved in MMA. There is no way I could live outside and not be involved in MMA. Fighting's my life. Fightings in my blood. If I'm not in there fighting myself I'm going to be taking people in there. One way or another I need to win that UFC title. My story isn't finished. This isn't the end."
Comments
comments