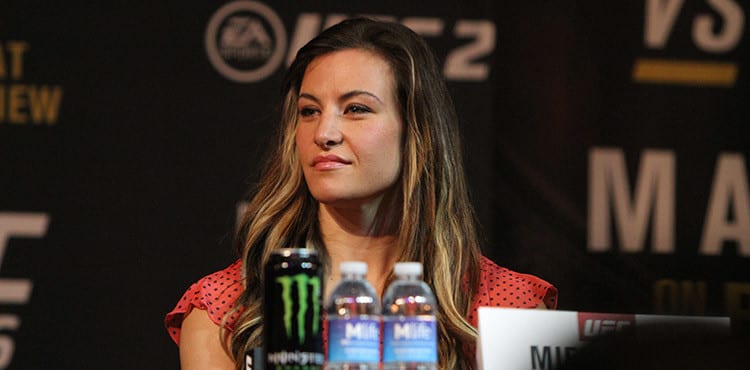 Former UFC women's bantamweight champion Miesha Tate has had an outspoken few days.
Shortly after she accused fellow 135-pound fighter Aspen Ladd of 'cheating' during her ultimately failed weight cut ahead of her nixed bout against Macy Chiasson last weekend, Tate has turned her attention to Jon Jones following his arrest in Las Vegas last weekend on suspicious of battery domestic violence and damaging a police car.
Jones' latest legal infractions have one against placed attention on one of the sport's biggest stars — and Tate, who returned to the sport this summer after ending her five-year retirement, says that the ex-light heavyweight king needs to show a whole lot more maturity in his private life.
"It is so disheartening," Tate said to MMA Mania. "Jon Jones, we can give him all the compliments for his accolades and he deserves that, but there are just a lot of unforgivable things that he's done throughout the history of his career. At least in the limelight that we know of. It's really tough to separate, I think it's getting more difficult for fans to separate the two. To just be a fan of him as a fighter and not recognise the other things he does as a human being that kind of tarnish that.
"Who should be in charge of Jon Jones? Jon Jones should be in charge of Jon Jones. There's nobody else that we should be looking at. It's not his fiancee's fault, it's not his parents' fault at this point. He's a grown-ass man. He's a grown-ass man and he needs to be responsible."
Tate, who maintains she is close to Jones, also stated that this isn't a UFC problem but rather a Jon Jones problem, and that ultimately any change has to come from him and not be mandated by the sport's power-brokers.
"I would like to consider myself an acquaintance-slash-friend [of his]," she added. "I don't wish anything ill towards Jon Jones. I know I have pissed him off before with my comments, but if I had any advice for the man, from the bottom of my heart, it would be to stay away from those things that cause you that potential fallout. Whether that be alcohol, whether it be certain kinds of drugs, I don't know.
"If it's an atmosphere [or] if it's Las Vegas. If you need to walk out of the room when you're upset and take an hour before you come back and talk to your partner. I don't know what his Kryptonites are, but I think he has to be strong enough and have the mental fortitude to recognise those and stay the hell away from him. That's how he's going to keep himself out of trouble."
"Nobody can do that but him. Dana White cannot get one of those little kiddy leashes and follow him around all day long. It's not Dana White's fault. You can't do that. He has to recognise what his problems are, Kryptonites are and steer clear. I hope he can do that but I won't be one holding my breath because you can't even be surprised by it anymore."
Comments
comments