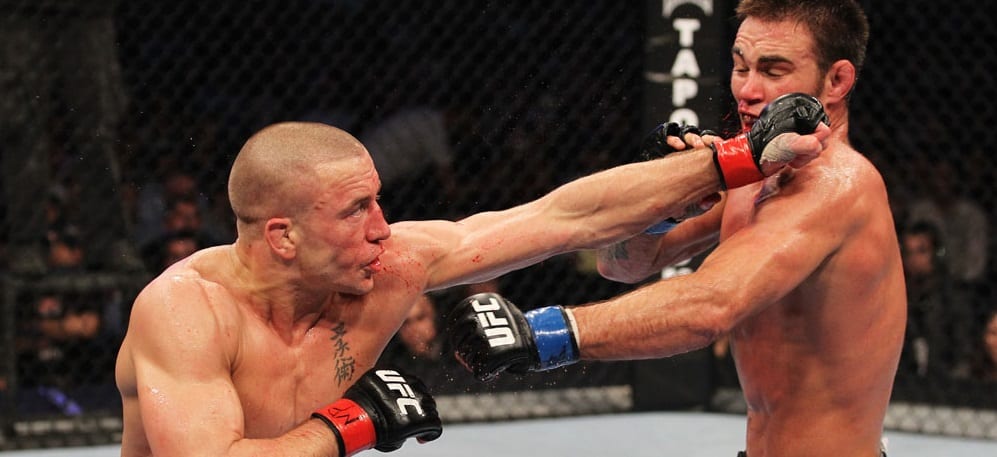 Almost exactly six years ago Georges St-Pierre defended his UFC welterweight title against Jake Shields in front of 55,000 rabid Canadian fans in the main event of  UFC 129 in Toronto, Canada and now, as GSP prepares for his UFC comeback later this year opposite middleweight champion Michael Bisping and Shields prepares to face Dillon Danis in a grappling match, the two former opponents are spending time on the mats together.
Grappling supremo John Danaher, who St-Pierre hails as one of the foremost minds in the world of Brazilian Jiu Jitsu, is a long-time coach of the Canadian superstar and he is pictured below along with UFC featherweight Mirsad Bektic. Shields is currently on the roster of the recently rebranded Pro Fighters League (formerly World Series of Fighting) and is slated to face Conor McGregor training partner Dillon Danis in the main event of Submission Underground 4 on May 14th.
In all the bluster of mixed martial arts, sometimes it is nice to see two former opponents sharing time on the mats — though one wonders how exactly Nick Diaz, a former (and potentially future) opponent of St-Pierre's would see this unlikely union.
Check out the picture from Jake Shields' Instagram above.
H/T: MiddleEasy
Comments
comments