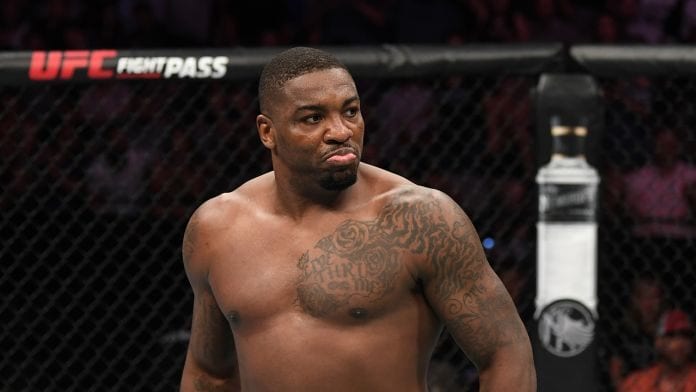 UFC heavyweight Walt Harris is looking to get his career back on track months after experiencing a family tragedy which threatened to derail his career, temporarily at least. 
Harris was scheduled to fight former title challenger Alistair Overeem last December but pulled out of the bout following the disappearance of his step-daughter, Aniah Blanchard, who was abducted in Alabama in late October and later tragically found dead. The incident prompted the cancellation of Harris' bout with the Dutchman but now he says that he is ready to get back to business.
"I'm hearing May 16 as a possible date that we could fight," Harris said to MMA Junkie. "He's here. They have him quarantined right now. I'm hoping that it goes through. Every day is day-to-day. Some days, you never know. You could wake up and everything is going great. The next day, everything changes.
"We'll see, man. I'm just trying to stay as ready as I possibly can during this time. Hopefully the fight will happen, man. It'll be a great honor to get in there and fight Alistair."
Harris has been in the midst of some of the best form of his career recently, earning knockout wins against Aleksei Oleinik and Sergey Spivak in a cumulative total of a little over a minute and has not been defeated cleanly in the cage since losing via submission to Fabricio Werdum in October 2017.
The status of Harris' potential May bout with Overeem, of course, comes amid relative uncertainty as to the UFC's upcoming events due to the ongoing coronavirus crisis which has already led to the cancellation of several UFC events.
The fight, should it come, will be something of a redemptive one for the Harris given the pain he and his family experienced in the latter part of last year.
"It's frustrating from a personal standpoint as far as a fight and my career, but it's a part of life," Harris said. "Like you alluded to, I've been through a lot of things in my life. It's just part of it, man. I think God does things on his own terms, so I don't get stressed out about things. I just try to do my best to stay ready and stay focused and be ready when my number is called. It's part of the process and my journey to the UFC — ups and downs. It's nothing new. I just stay focused and keep going."
Comments
comments