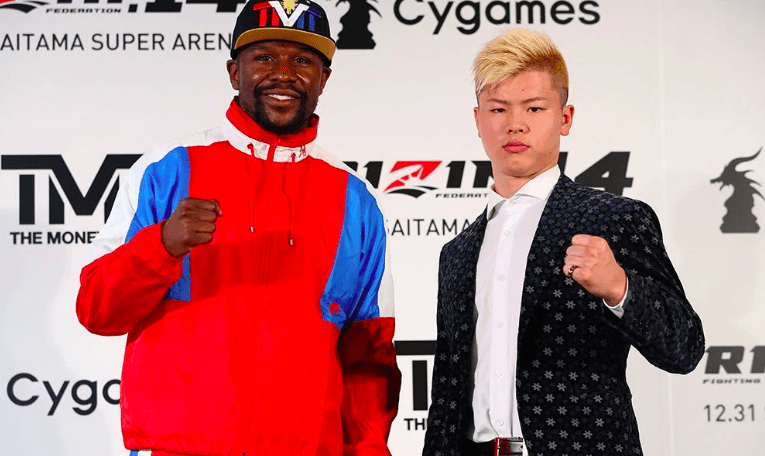 Floyd Mayweather made quick work of Japanese kickboxing sensation Tenshin Nasukawa at Rizin 14, defeating the 20-year-old by corner stoppage just over two minutes into the first round.
Mayweather, who entered the ring with shorts displaying a picture of his own face alongside wads of cash, appeared disinterested from the start of the bout as he laughed and joked with his corner as the pre-fight ceremony got underway.
Mayweather opening the bout with pawing jabs, walking down his opponent who appeared flummoxed by Mayweather's size advantage. The Japanese did land a sneaky left and pivoted out of the pocket to a chorus of appreciation from the Tokyo fans, though it would be his only moment of note in the bout.
The American boxer soon walked Nasukawa down, landing a series of strikes which sent his opponent stumbling to the canvas — the first coming just over 60 seconds in. It was soon followed by a second.
By the time the third knockdown came seconds later, Nasukawa's corner had seen enough and they threw in the towel signifying the end of the somewhat bizarre exhibition.
"I just want to say thank you," Mayweather said afterwards. "It was all about entertainment but we had fun. Tokyo, Japan, you guys have been amazing and thank you.
"I want to say thank you to Tenshin. This is all about entertainment. Tenshin is still undefeated, I'm still retired. I did this just to entertain. Once again, I'm still retired. I'm still 50-0. Tenshin is still undefeated. He's a hell of a fighter and he's a great champion.
"Tenshin, hold your head up high. You're still a champion."
What an embarrassment for Rizin.

— Luke Thomas (@lthomasnews) December 31, 2018
And so in the words of Chael P., it makes you think … just how good is Conor McGregor?

— Ariel Helwani (@arielhelwani) December 31, 2018
Floyd Mayweather just did bad things to Tenshin Nasukawa. Holy hell.

— Mike Bohn (@MikeBohnMMA) December 31, 2018
Mayweather destroys Tenshin #rizinff14 pic.twitter.com/aNYF3pfl6h

— Jim Edwards (@MMA_Jim) December 31, 2018
–
Comments
comments