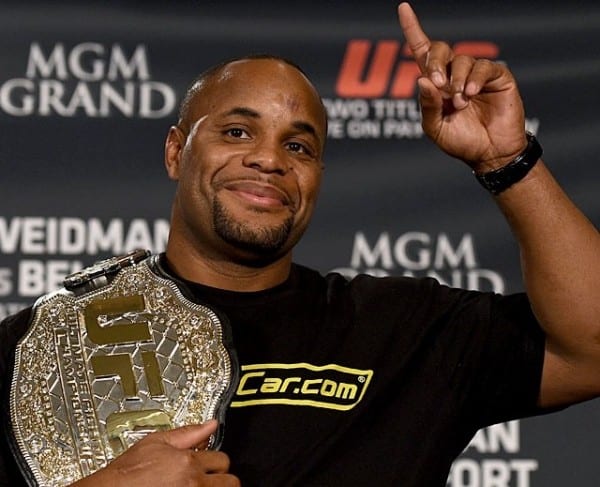 Stipe Miocic's place as one of the greatest heavyweights in UFC history is assured. His three successive title defenses — against Alistair Overeem, Junior Dos Santos and Francis Ngannou — is the most successful run of any heavyweight on the roster past or present but his opponent this weekend in his fourth title defense isn't so impressed.
"He's fought some tough guys", Cormier said after the UFC 226 open workouts, via MMA Fighting. "But, Fabricio Werdum, I don't know what he was doing. He decided to run — he ran right into Stipe's fists. Stipe might've still won that fight. Alistair Overeem, I don't know what he was doing. He hurt him and then he thought he tapped. The third match with (Junior) dos Santos — I think Cain Velasquez may have turned Junior into a zombie. He's a walking zombie nowadays. I love the guy, but he is. And Francis Ngannou can't wrestle.
"So, this'll be the first time he's fighting somebody that can do everything."
Cormier will attempt to become the latest tw0-division champion in UFC history and just the second fighter, after Conor McGregor, to hold them consecutively in Las Vegas on Saturday night and returns to a heavyweight division in which he never lost in mixed martial arts, or in wrestling for that matter, and 'DC' is confident that his experience in the highest level of that discipline will serve him well at UFC 226.
"Nobody's really pushed him in [wrestling]," Cormier said. "I'm not anticipating that it's going to be easy to take him down. I just know that the longer I can make us grapple, the better the odds are for me. Guy, I'll tell you this, there are oddsmakers for a reason. They instilled me as the underdog and it's great. Stipe Miocic is in a completely different situation. Last time, he got disrespected. I feel I'm getting disrespected. Stipe Miocic is fighting a guy that, he's never seen anything like this.
"here's odds for a reason, but know that those odds and all that money that they've bet on him, it's tied to one outcome. The only way he can win is to knock me out. There's no other way he beats me. If he didn't finish Ngannou on the ground, he is not finishing me on the ground. And if we fight for 25 minutes, there is no way he gets his hand raised. So all the money that people are betting, know that it's tied to one outcome, because that's the only way he wins the fight."
Comments
comments