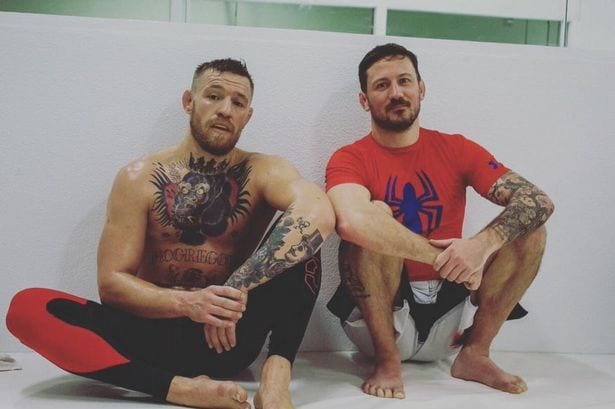 John Kavanagh has confirmed in an interview ESPN that discussions regarding Conor McGregor's UFC return are "ongoing".
A bout between McGregor and Khabib Nurmagomedov is speculated to take place before the end of 2018 and Kavanagh says that he, along with McGregor's manager Audie Attar, are "working on" bringing the contest to fruition.
"I really have seen the spark back lately," Kavanagh said of McGregor's recent impact in training. "I think that was directed at other areas of his life for a while, building up his business world — which is completely justified. We all know the hard-luck stories of fighters retiring broke. They get pats on the back and they're forgotten.
"I supported [McGregor focusing on other business] and I'm fully behind it, but I do see the spark back. I do see him very hungry, coming down to regular jiu-jitsu class and throwing a gi on. Strength and conditioning. There's a real fire back.
"The selfish side of me is probably shoving him in the back a little more. I want to make sure he's set, which he is more than set. I'm his coach, I've invested a lot of time and energy, and you want to see that skill set used in the sport.
"If he so wished, if he was driven to do it and said, 'I've got the other side of things on lockdown, I'm confident with that. Let's do another three-year stretch of fighting three times a year,' he could easily do that from a physical point of view, as long as he found the motivation.
"You best believe I'd be behind it. I'd love it. It's so much fun. The experience of training him and coming out [to Las Vegas] for a couple weeks. The lead-up and buildup, the fight. There's just a different feel to a Conor McGregor fight."
And should McGregor's next fight be against the undefeated Russian fighter, Kavanagh says he has a good idea as to how that fight would develop once the first bell is rung.
"It's a cliché to say, but it's a classic striker versus grappler," Kavanagh said. "Khabib needs to get into that clinch, join his hands and start chaining his takedowns together. Obviously, we need to try and prevent that.
"I think a lot of people are so afraid of Khabib's grappling, they don't engage with him. Conor is a good grappler. I know that will get a lot of people upset when I say that, but watch his fights. There's plenty of evidence to support that claim. I'm feeling and he's feeling confident, wherever the fight goes. But [the left hand] will be the difference in the fight."
Comments
comments