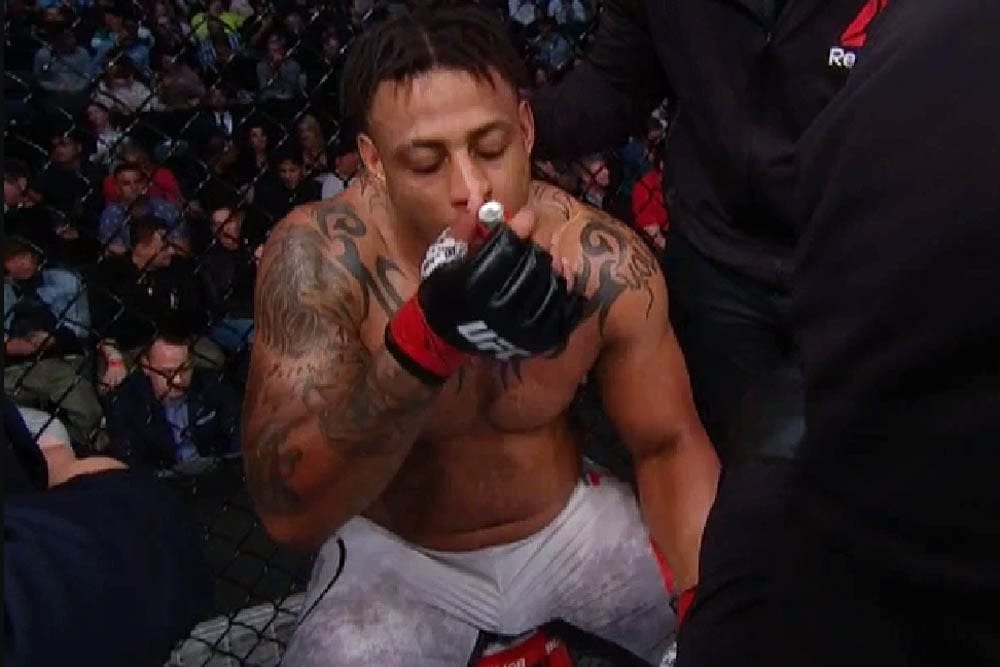 During his fight with Ben Sosoli in Boston, Greg Hardy used an inhaler.
The move immediately drew shocked reactions from viewers, with on air commentators Dominick Cruz and Daniel Cormier saying they felt the move meant the fight was over, and that it was not allowed.
Fighters on twitter felt similar. Check it out below.
You can't an inhaler between rounds idiot. That is cheating and should be disqualification!!!! https://t.co/B6EI4XNorn

— Daniel Cormier (@dc_mma) October 19, 2019
Umm, what was that, Greg Hardy?!?! #JumpingSpinningShit #UFCBoston

— Mike Jackson, Esq. (@TheTruthJackson) October 19, 2019
Waiiit whatt hardy got an inhaler between rounds?! 🤯 #UFCBoston

— Katlyn Chookagian (@blondefighter) October 19, 2019
Did Greg Hardy just use an inhaler in the corner? #UFCBoston 🤔

— Frank Mir (@thefrankmir) October 19, 2019
Damn inhaler in between rounds?? We cant even have @DrinkBODYARMOR #UFCBoston

— Cortney Casey (@CastIron_Casey) October 19, 2019
Wow he just used a inhaler …😐 #UFCBoston

— Jessica Eye (@jessicaevileye) October 19, 2019
This has to be a no contest by Greg Hardy #ufcboston #inhaler #illegal

— Curtis Blaydes (@RazorBlaydes265) October 19, 2019
— Marion Reneau (@BelizeanBruiser) October 19, 2019
Comments
comments