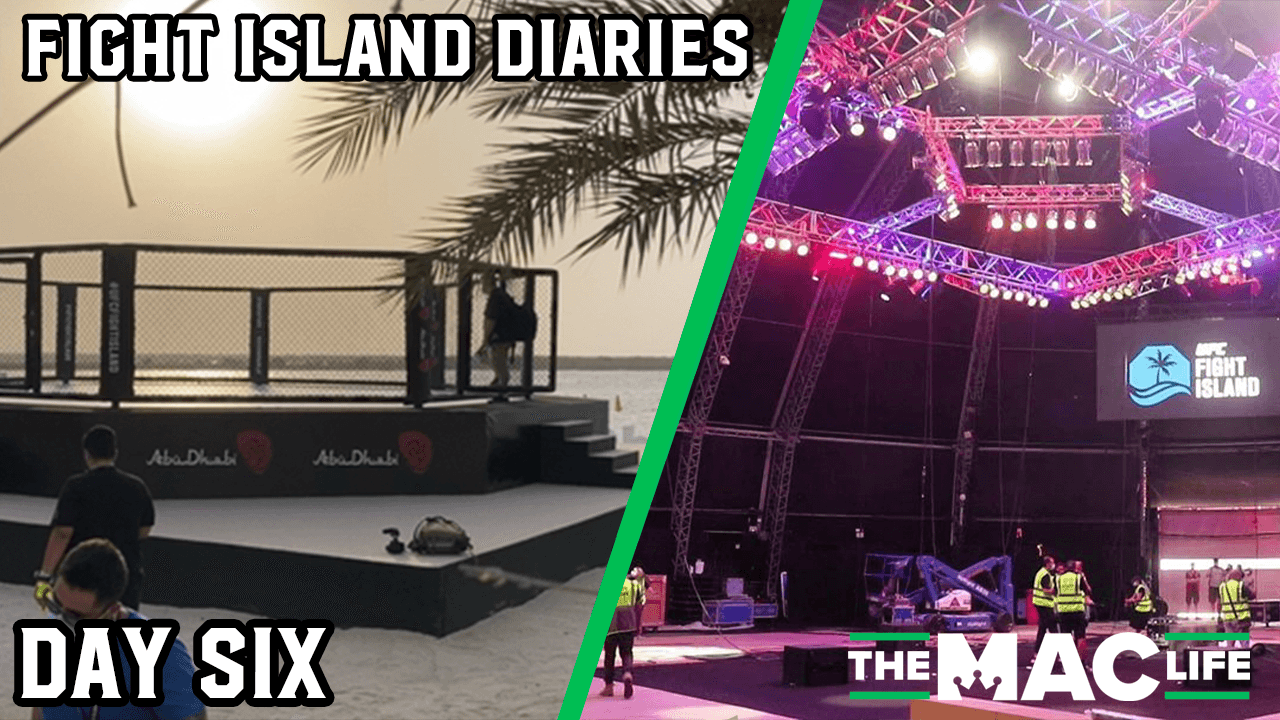 I'm not going to lie to you, lads. I'm tired.
The sleep pattern is well and truly mangled at the moment, as I currently write this at 3 in the morning, frantically trying to upload a video in the cold dark Abu Dhabi morning. The reason for my fatigued state can be attributed to a number of things, but mainly, the deathly combination of both not sleeping and pints.
This morning we awoke bright and early to begin a tour of the Fight Island facilities, which include a golf course, a race track, an arena and a beach, all of which will be detailed to you shortly. It was a 9 a.m. start, which sounds reasonable, but remember we're trying to get onto a internal clock where we start work at 2 a.m. and hit the sack around 11 a.m. At this point of my Abu Dhabi experience, the longest stretch of sleep I've had in one go is five hours.
Still, not one to make a foofaraw over bedtimes, I got up bright and early to annoy some tour guides.
We kicked off with the race track, on which fighters can get into the passenger seat of various cars and be whizzed around at frightening speeds for 15-minute intervals. Exactly how fast I can't tell you, as it was in kilometres, which isn't a real measurement. It was a large number though, if that helps. The media plan on giving the experience a go on our last week, so then at least if we die, we'll have gotten most of the content. Planning ahead.
Following that, we headed to the Flash Forum, which will be the arena the athletes compete in come the early hours of Sunday morning. The Octagon wasn't set up when we arrived, but it was a pretty impressive showing. For those concerned about the heat of the desert and how it will affect fighters — something that was raised in September of last year — I don't think we'll have a problem. The place was cool with air conditioning, and with the fights being as early as they are (did I mention how fucking early they are?), it should be a standard temperature for the competitors.
The Forum had a few stand out features worth a mention. As you enter the building, you go into a box that looks either like a Tardis or an airport x-ray machine, depending on how nerdy you are, and you're spread down with some sort of disinfectant. I might even be sterile now, which is a nice bonus.
It also has a backstage area like no other, with multiple individual cubicles serving as locker rooms, production rooms, USADA testing spots and so on. All spread out, all socially distant.
Lastly, one thing that caught my attention is on raised platforms are two stations for Abu Dhabi TV and ESPN. The ESPN side? A black carpeted square with a podium for the analysts to stand behind. Abu Dhabi TV? Large cream sofas to lounge on with a reflective shiny floor. One of the production guys said it was an example of the different cultures, and it just caught my eye.
From there, it was over to the golf course.
Golf, which is a simple sport designed to get men out of the house and away from their crumbling marriage, has never really appealed to me. I don't look good in a polo, and I have the hand-eye coordination of a small, sugar addled child. Despite that, and despite the fact the tour guide span a few apocryphal tales of how the course was discussed with reverence by the local members, it seemed a perfectly fine place to come and swing a stick at a ball.
Last stop was the (bar by the) Octagon on the beach.
We finished around 8, and Jorge Masvidal did a virtual media day at 2 a.m., which has wrapped up and been uploaded. Kamaru Usman is to follow, possibly coming on around 4 a.m., and then we're to get another Covid test in the morning from 8-10.
Knackered.
Comments
comments