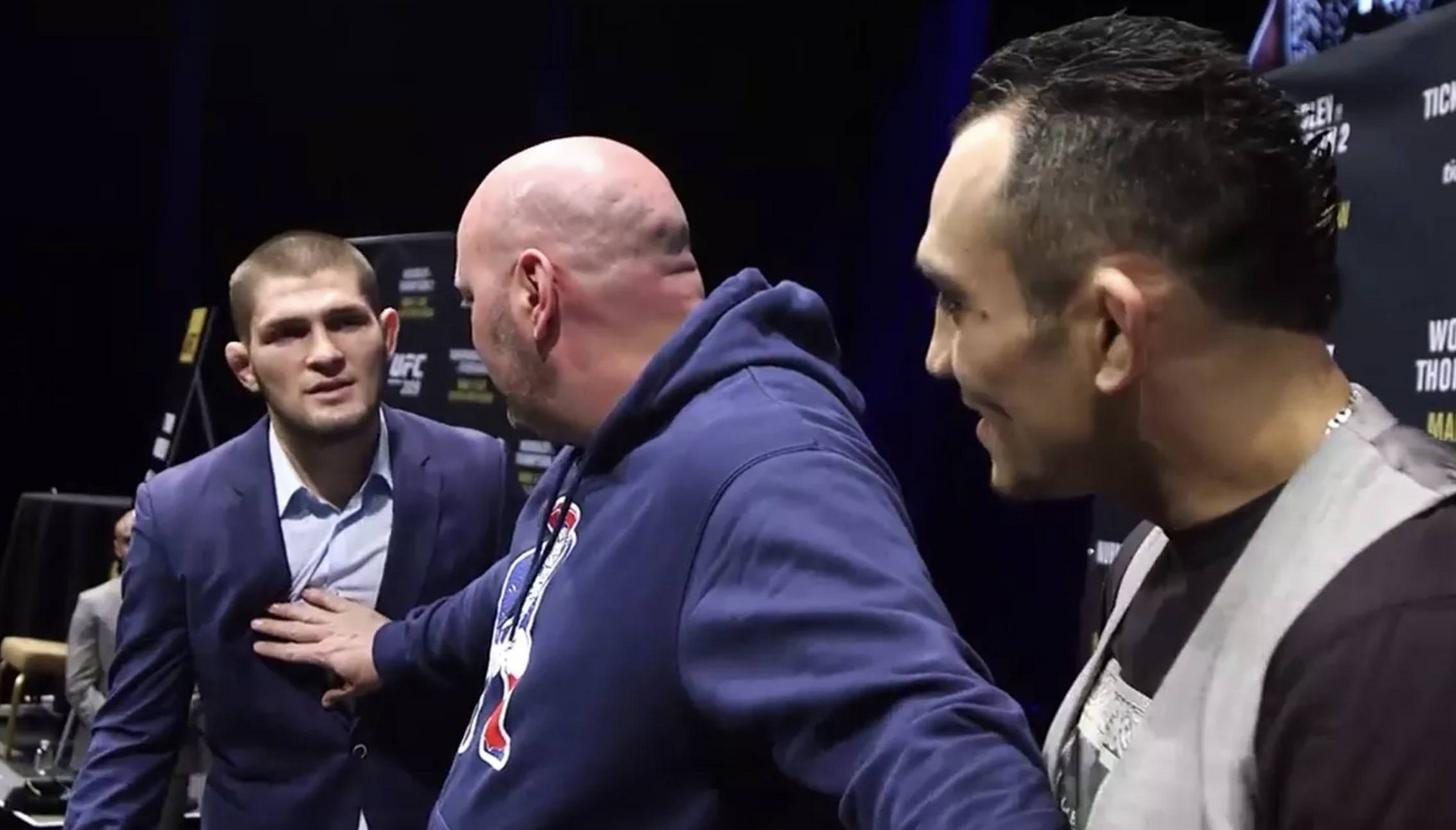 October 15th, 2015 — Just less than two months out from their first scheduled bout, Khabib Nurmagomedov withdraws from an upcoming fight with Tony Ferguson slated for the finale of the 22nd season of The Ultimate Fighter citing a rib injury. This was to be Nurmagomedov's first fight since an April 2014 win against Rafael Dos Anjos, having suffered two consecutive knee injuries in the interim. Ferguson instead faced Edson Barboza, winning via second round D'Arce choke.
April 5th, 2016 — 11 days out from a rescheduled contest with Nurmagomedov, Tony Ferguson withdraws from the UFC on FOX 19 main event against the Russian. He was forced off the card after suffering illness which resulted in fluid and blood collecting in his lungs. Nurmagomedov remained on the card and defeated promotional newcomer Darrell Horcher via second round TKO in a 160-pound catchweight bout.
March 3rd, 2017 — A third scheduled meeting between Nurmagomedov and Ferguson falls foul, this time at the eleventh hour. While attempting to cut weight on the eve of the contest for an interim lightweight championship bout at UFC 209 in Brooklyn, New York. Nurmagomedov was taken to Sunrise Hospital and Medical Center late on the Thursday after suffering severe issues with his kidneys and was deemed medically incapable of competing. By the time that the news was announced on Friday morning, Ferguson had already made weight at 154.5-pounds.
Nurmagomedov later commented on the withdrawal saying, "[The doctors] say 'no fight, one hundred percent, no make weight, no nothing. You need to stay hospital for seven hour, we have to make sure your body is good'. I feel I almost died."
April 1st, 2018 — The UFC pick the most inopportune day of the year to announce that the fourth pairing of Ferguson and Nurmagomedov has been canned. Later, it emerges that a freak accident was suffered by Ferguson on Friday while fulfilling media obligations for FOX after he tripped while turning sharply to greet someone. Allegedly the accident has torn the ligament from one of his knees completely from the bone. Max Holloway will step in on six days notice to face Nurmagomedov in a five-round main event in what will be his first lightweight bout in the UFC, and his first since 2012.
Dana White, tempers no doubt running high, emphatically commented to ESPN in the wake of Ferguson's withdrawal saying, "I'm never making that fight ever again. Ever."
Now, White word probably isn't to be taken in the gospel-like sense that it may have in the past but little doubt remains that a fifth booking between will receive significant pull-back from fans and media alike, despite Khabib's father's quotes to RT today in which he says that his team "will demand Ferguson fight as long as he's alive."


The Ferguson pull-out means that the UFC has lost its featured attraction of the the third pay-per-view event in succession. UFC 221 in Perth, Australia, lost its hometown star, UFC middleweight champion Robert Whittaker, to injury in advance of the card. His place was taken by Yoel Romero who subsequently defeated Luke Rockhold to clinch top contendership at 185-pounds.
Some weeks later Max Holloway was forced to withdraw from a title defense against Frankie Edgar due to injury, a point to which we will return later. Rising featherweight contender Brian Ortega stepped in on short notice, dealing Edgar the first knockout loss of his professional career in the process.
This brings us to Max Holloway. It's an unenviable task for most mixed martial artists to face Khabib Nurmagmodov at the best of times, let alone on short notice while you're recovering from injury. On February third — less than one month ago — Holloway pulled out of his featherweight title defense opposite Edgar after suffering a leg injury in training, though his Instagram account appears to indicate that he has been in some form of training since at least mid-March.
"We've got one more doctor meeting in a month or so," Holloway said on The MMA Hour on March 19th. "That's what we're trying to do, we're trying to get cleared. The hold-up is on the docs, we're waiting on the docs to get cleared. [Physical therapy] is coming good. The injury is coming back stronger than ever. I feel great.
"I started doing drills, I started getting back on the mats. It's hard to hold me down, man. I can't wait to get back out there and perform again soon."
Holloway further indicated that surgery would only be required if the results of his physical therapy required it. "The doctor gave us a certain timeline and we're just playing it by ear now. We'll see what happens.
"If everything goes well like how it's been, [doctors] have finally started to let me move and do a little bit more stuff on [my ankle], we'll see what happens. I told you guys I want that July fight, everybody seems to be on that. Supposedly Hawaii is supposed to happen in August. So it depends if it's that July card, or the August card in Hawaii. That's the timeline we're looking at right now. My doctors, my physical therapists, my coaches, they're trying to see a July and August return. That's all I can do; be positive, keep training and get this thing strong."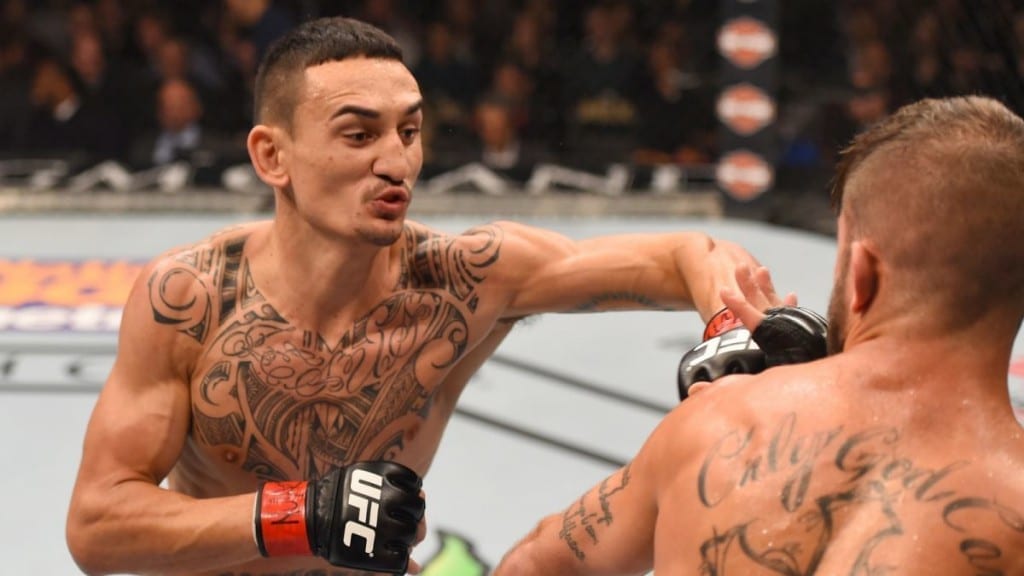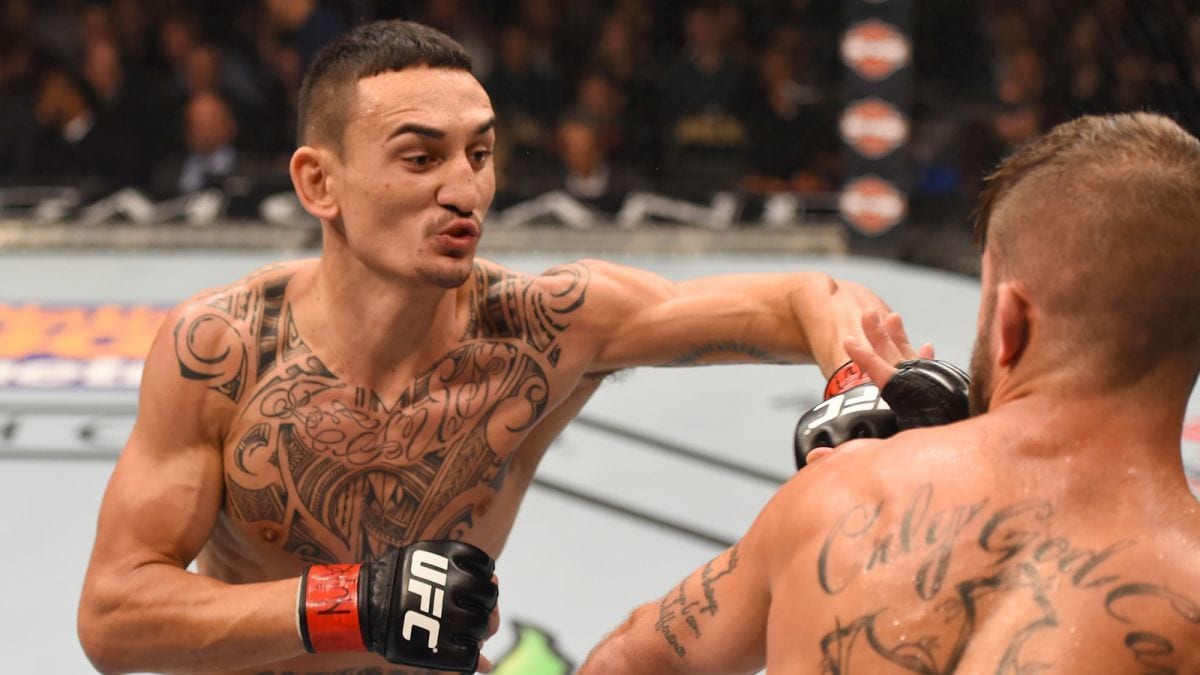 With Holloway's return timeline very much accelerated, the Hawaiian's core philosophy remains intact. When Helwani asked him about facing surging contender Brian Ortega in what was expected to be his next bout, Holloway uttered words which are very much relevant to today's news.
"This kind of thing intrigues me, you know what I mean? When I see danger, you guys know that I walk straight to it. I ain't trying to run away from no danger. If it's supposed to be dangerous for me, I want to go out and take a peek."
He will get his chance on Saturday night in New York.
Comments
comments