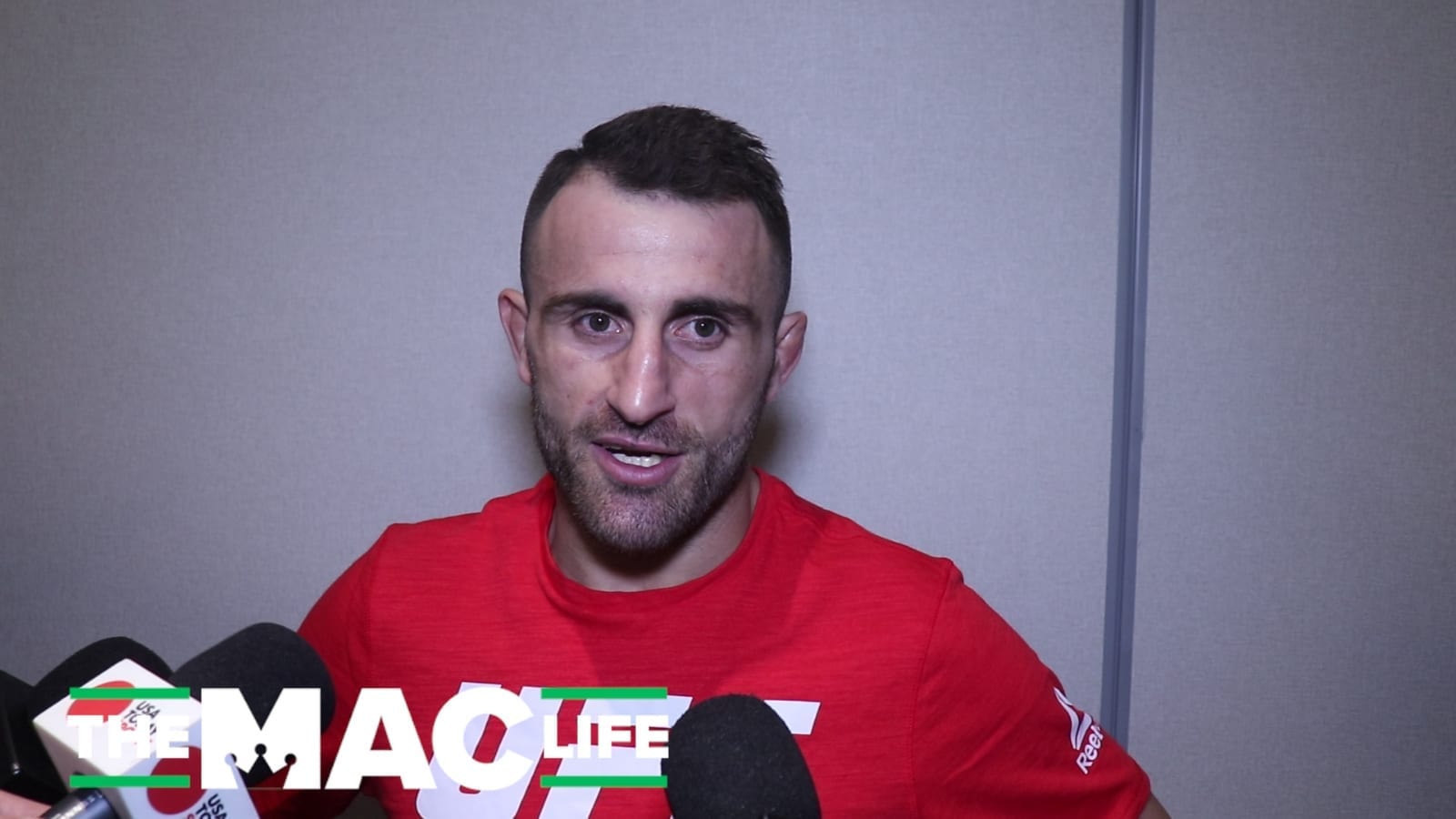 Australia's Alexander Volkanovski, the presumptive next challenger to Max Holloway's 145-pound UFC championship, had the best seat in the house for last weekend's UFC 240 main event between Holloway and Frankie Edgar.
Holloway retained his title with little trouble in a tight but ultimately conclusive five-round decision win against Edgar, reemphasising his status as the world's foremost featherweight but watching cageside, Volkanovski predicted that it is his particula style which will flummox the Hawaiian when they finally meet in the UFC cage.
The Aussie is a perfect 7-0 in the UFC thus far (20-1 overall) and counts successive wins against Darren Elkins, Chad Mendes and Jose Aldo on his record and is fast earning a reputation as the most potent threat to the dominant champion Holloway.
Volkanovski, who made weight in Edmonton last weekend as potential replacement if either main event fighter was unable to compete, will enter the bout with a similar height and reach disadvantage to Edgar but is of the opinion that he is better equipped to pose a threat in both the striking and grappling than Edgar was on Saturday night.
"I'm actually comfortable a little bit out of range as well," he said of his fight style via MMA Fighting. "I like to pick my times when to come in," Volkanovski explained. "I'm very comfortable in the pocket as well. He likes to really pour it on and you've seen when he's really in your face, really trying to suffocate you, and give you that claustrophobic feeling but Frankie didn't really crumble there and I know I won't and I know I can handle that pace and I know I'm very powerful.
View this post on Instagram
"So if you want to come at me with that sort of game plan, I feel I'm pretty explosive and powerful. I feel I can do a lot more damage and again, I've got my wrestling background. Max is a true champion. I enjoy watching him fight but I want to get that fight. I want it."
Volkanovski, a former rugby player, says that he will seek similar opportunities in the cage to Edgar — namely getting inside the pocket — but that he will have the power to put Holloway out if he connects flush.
"Knockout power and I believe that I'm comfortable out of range as well," Volkanovski said of his advantages. "I feel Frankie really loves coming forward and just being in the pocket and staying there, which he started getting hit with a jab a few times where I'm more than happy to be outside the range, work my way in, stay in, work my angles, work the takedowns, keep him guessing.
"I just want to work my game and I believe I can do that."
Comments
comments