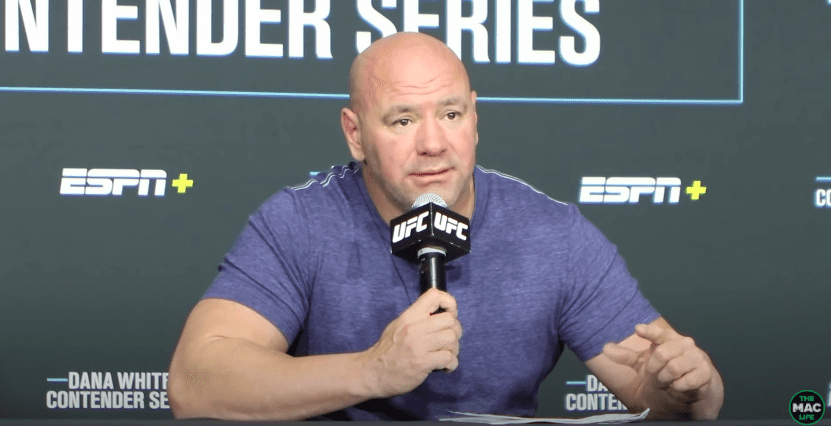 Anybody who has ever witnessed a Dana White press conference will tell you that UFC president has no issues speaking his mind when there are microphones lined up in front of him. 
This once again happened late Tuesday following the latest taping of 'Dana White's Contender Series' in the UFC Apex. The target this time? Top Rank CEO Bob Arum. This time around, White took umbrage at comments made by Arum following Terrence Crawford's fourth-round knockout win against Kell Brook last weekend, where Arum said that he could "build a house in Beverly Hills" with all the money has lost promoting the 37-0 undefeated pro.
"I could build a house in Beverly Hills on the money I lost on him in the last three fights," Arum said.
White didn't hold back when asked about it.
"Can you imagine if I said that?" White said to the assembled media, including The Mac Life. "Are you fucking kidding me? You guys would murder me if I said that. I'd never hear the end of that. That's what you do. That's not (Crawford's) fucking problem, that's your problem.
"His problem isn't to figure out how you make money. You fucking signed a deal with this kid, at how many people we have on the roster, our roster is very inflated right now. We have a very big roster, the biggest roster we've ever had in the history of the company. I have to pay all these kids. How I pay them is not their fucking problem. It's my fucking problem.
"Imagine me saying 'oh, I gotta pay Conor McGregor this much money, I could have built a house in Beverly Hills.' Shut the fuck up, you fucking scumbag. Pay your fucking fighter what you owe him, do you job. Bob Arum is a piece of fucking shit."
Comments
comments