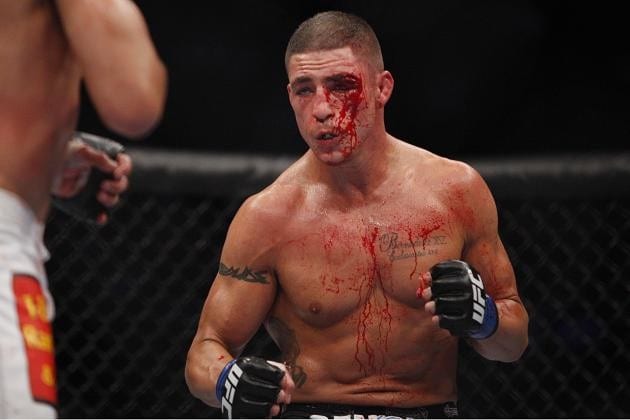 Hold on to your hats, ladies and gentlemen.
Every once in a while, a fight gets announced which simply doesn't contain the necessary ingredients to make it a slow, boring affair and we'll put our money where our mouth is by saying that the freshly-announced UFC Rio Rancho clash between Diego Sanchez and the ludicrously entertaining Michel Pereira is one of those fights.
Sanchez, of course, needs no introduction. The first ever winner of the The Ultimate Fighter (he beat Kenny Florian in the TUF 1 finale minutes before Forrest Griffin's historic victory against Stephan Bonnar), the UFC veteran is the longest-tenured fighter on the UFC roster and has been responsible for some of the most memorable octagon moments during that time.
Consider, if you will, Sanchez's all-out brawl with Gilbert Melendez back in 2013 or his tussle with Clay Guida which was recently enshrined in the UFC Hall of Fame as evidence to Sanchez's uncommon ability to rarely participate in a boring fight.
Cast opposite him for the UFC's trip to Rio Rancho is the ideal foil. Michel Pereira came into the UFC in early 2019 on the back of a video highlight reel which went viral online showing the Brazilian engaging in all sorts of highlight reel techniques including (but not limited to) 'Showtime Kicks' off the cage, all manner of dazzling strikes and what we can only describe in pro-wrestling terms as a 'moonsault'.
Set your faces to stunned…a gentle reminder that Michel Pereira is back in action this weekend at #UFCVancouver pic.twitter.com/v6Drz6P0pJ

— Michael Morgan (@mikewhoatv) September 13, 2019
Pereira backed up the hype with a debut win against Danny Roberts in his UFC debut but would drop his second to Canada's Tristan Connelly — but in Diego Sanchez, he will find a willing participant to what is a surefire contender to be fight of the night.
UFC Rio Rancho is headlined by a light heavyweight number one contender bout between Jan Blachowicz and Corey Anderson and takes place on February 15.
Comments
comments