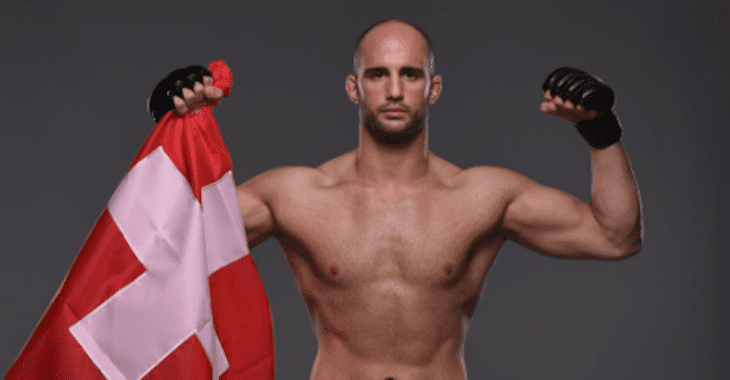 For Volkan Oezdemir, life has changed quite substantially over the past few months.
Since knocking out Jimi Manuwa at UFC 214, the Swiss fighter has been pushed to the forefront of the UFC light heavyweight division as one of the few consistencies in a division often found in turmoil.
With a five fight win streak, and two consecutive first round knockouts (both in under 45 seconds), Oezdemir has emerged as a sudden contender at 205-pounds — a weight class in dire need of new blood.
For Oezdemir, the win over Manuwa put him at a higher level than ever before, particular after the fight at UFC 214 was set up almost as a way for Manuwa to cement his own title shot.
"I'm living the dream right now," Oezdemir said, speaking to TheMacLife. "A lot of things have changed, and I'm on my way to the title, so I'm really motivated. [Things changed with Manuwa] because finally it was the top of the rankings. The number three in the world. So it was a statement for me, to prove to everybody that I deserve to be here."
Currently, the UFC light heavyweight division is (once again) in flux. The champion of the division, Jon Jones, recently failed a USADA test for the steroid Turinabol, once again putting the status of the title in uncertainty.
As of yet, the UFC are yet to take any action against their champion, instead waiting for Jones to undergo the standard process with the anti-doping agency. For Oezedmir, Jones' misgivings are more an irritant than anything else.
"I was disappointed in the result, but I wanted to know who the champion is now in the division," Oezdemir said. "I think his situation changes everything. I can't wait to know more about it, and to hear about the 'B' sample. … I think everybody is all for themselves. I don't think Jon represents anything, I think everyone is really good in the division, we have a lot of top guys — I think DC makes a great champion too."
One glance at the rankings, and what's next up for Oezdemir appears clear. With three of the top five in the division on a loss, it seems a fight against Alexander Gustafsson is the next logical step.
It's certainly a step Oezdemir is interested in taking.
"This could be like a King of Europe fight to see who is really number one in Europe, and we can use that as a European title before the world title," Oezdemir said. "I think after I beat Gustafsson, I'm going to have my shot.
"I will knock him out in the first round also."
Comments
comments