Many observers hailed Gunnar Nelson's second round submission of Albert Tumenov last May in Rotterdam as the best performance of the Icelander's career. The Russian boxer came into that bout on the back of five successive wins in the UFC and was tipped by the oddsmakers to make it six in a row against Nelson.
It wasn't to be. Nelson dominated on the feet throughout the first round before taking the fight to the ground in the second and sinking in a rear naked choke to end the bout. Aiming to capitalise on the momentum gathering behind Nelson, the UFC swiftly booked him to compete in the main event of the UFC's return to Belfast against Dong Hyun Kim but an injury sustained in an official UFC media day put paid to those plans.
As Nelson explained to TheMacLife.com's Andrew McGahon, Nelson was grappling with his longtime training partner Kenny Baker when the injury occurred.
"I go to lift him up for a little takedown [and], for whatever reason, we were going kind of slow", Nelson explains. "I went to put him down a bit slower than I would normally. Whatever way I put my leg underneath him, my ankle got twisted in a bad position and he landed with his whole weight on the ankle."
The injury, Nelson says, was so restrictive that it removed any possibility of fighting through the pain.
"I wouldn't have been able to jump around like I do. I couldn't grapple. I couldn't stay in mount. I couldn't get the back and do my figure four. I could have gone into the fight and just stood in the middle and [said], 'Alright, let's swing.' How many times have you seen me do that? That's not really my style."
With the Icelander now fully fit, he has drawn the challenge of American fighter Alan Jouban for March 18th's event in The O2 in London. Jouban, a brown belt under Eddie Bravo at 10th Planet, but Nelson suspects that he will attempt to keep the fight on the feet rather than go to the ground with Nelson, one of the welterweight division's most unforgiving grapplers.
"We'll see what [Jouban] wants to do. I believe he wants to keep it standing. We'll see. He's probably comfortable everywhere and I am as well."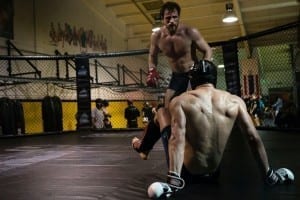 Gunnar Nelson and Luka Ivana Jelčić spar in SBG Concorde. Photo by Dave Fogarty
Jouban comes into the bout on the back of three straight wins but Nelson says that initially he was looking to compete with a higher ranked opponent. Despite numerous inquiries to the UFC, many of Nelson's fellow welterweights appeared hesitant to take up the offer.
"I've had my ups and downs like most of the fighters. You could say that I should have fought somebody ranked in this bout but believe me, there was about five ranked fighters that we tried to get and no one was available. Alan Jouban stepped up, so I'll fight him. All these guys, top 15 or top 20, they're all tough fighters. You learn a lot about yourself and improve your own game fighting any of them."
Gunnar Nelson faces Alan Jouban at UFC London on March 18th. 
.
Comments
comments