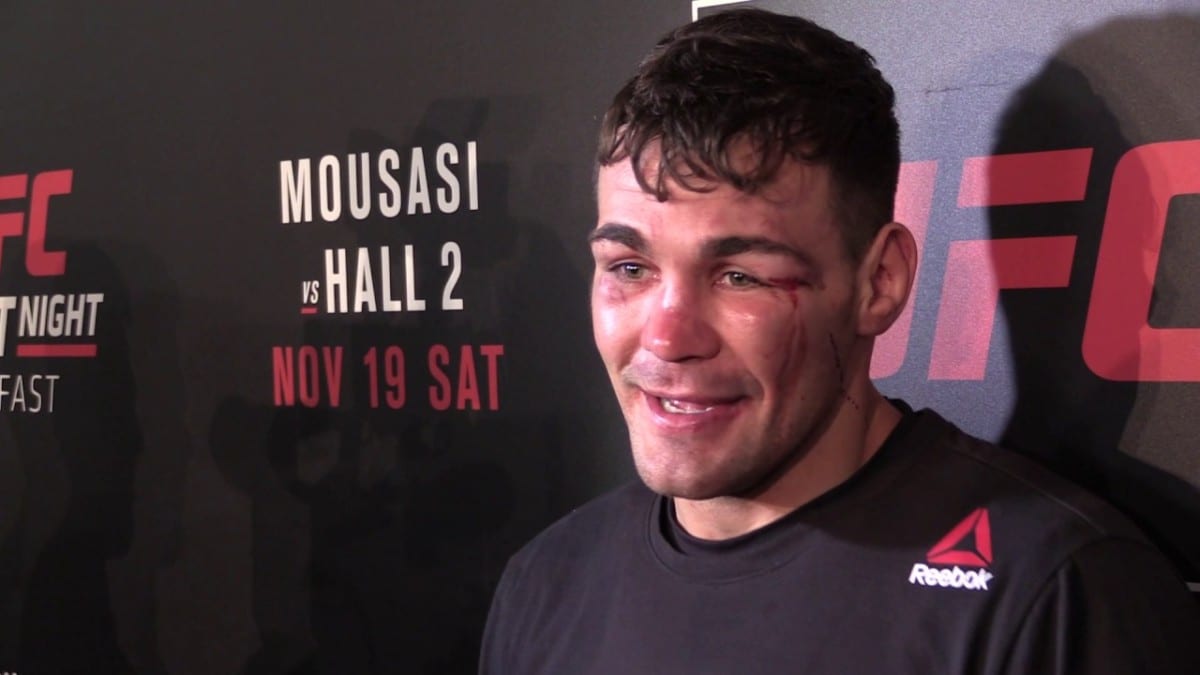 Jack Marshman might be coming into UFC Scotland on a loss, but he's not coming in with anything other than enthusiasm.
The first Welshman to be signed by the UFC may have only stepped out into the Octagon twice, but he's already become something of a favourite amongst UK MMA fans — particularly amongst his native Wales.
Marshman is set to make his return at UFC Glasgow, which takes place on July 16, and will be doing so against fellow middleweight Ryan James — a man who Marshman has already had the opportunity of seeing up close.
"He was in my changing room at the last fight," Marshman said, speaking to TheMacLife. "I sound like I'm being disrespectful — and I'm never disrespectful — but I seen him warm up and I watched him fight because he was on the card a bit earlier than me, and when I got that [fight offer], I thought that's a great bounce back fight for me — I don't mean that in a disrespectful way."
It's not that Marshman's confidence stems from feeling Hall is a poor fighter, but rather that his own level of competition in the UFC has simply been a level above that of James'.
"On paper, he's 1-1 and I'm 1-1 in the UFC," Marshman said. "I've been matched up pretty hard, I think, for my first two fights. I came in against a guy who was on a four fight win streak and was looking to fight in the top 15, and then I fought a guy who was ranked fifteenth. I think I came in and I had a tough first couple of fights. Magnus [Cedenblad] has had six fights in the UFC, Thiago [Santos] had ten fights in the UFC.
"I think they've matched me up now [so that] on paper it should be a close fight, but what I do know about him, I'll be able to beat him quite convincingly and show why I was fighting tougher opponents."
Last time out, Marshman faced off against Brazilian Thiago Santos, in a fight that looked to be tipped in his favour, until Santos threw a spinning heel kick that dropped the Welshman. While at the time there were some discussions that the referee stepped in too quickly, Marshman isn't making any excuses.
"Although I came off a loss, it was a guy who was in the top 15, and I put on a good performance and it was a good fight," he said. "I'll never take a loss well, because I'm a fighter and I want to win every fight, but I was happy with how things were going until I got caught.
"With that fight, I was switched on all the way up until the split second until I let my feet stop and stand still and I got caught with a spinning kick. For years, my coaches have been telling me 'you can't have that split second' and I got caught because of it. I'm not going to complain about the stoppage or anything [but] I know I wasn't out, I felt I could have continued."
Instead of being disheartened by the setback, however, Marshman bounced back quickly, taking an opportunity to improve by heading out to Albuquerque to the world famous Jackson-WinkleJohn gym.
"It's something I wanted to do for a while," Marshman said. "Not just Jacksons, but you have to train at these bigger gyms where there's a lot more sparring partners haven't you? As soon as I lost that fight, within two weeks I was on the flight over there, because there are two ways I can react — either sulk about it or get on a plane and go training."
Being the first Welshman to be signed by the UFC has given something of a level of attention on Marshman. On both occasions he's fought, there has been a noticeable Welsh contingent in attendance. And with UFC Glasgow well within travelling distance, Marshman believes that support will be more vocal than ever.
"The Welsh fans are really supportive," he said. "When I fought in Belfast, the tickets had already been on sale by the time I got signed and got matched up, and we still took an army over with us then, even when the tickets were about three times the price on ticket tout sites and stuff.
"With this fight, we got it booked with a decent amount of time, and there's a good connection between Wales and Scotland. We always do rugby tours back and forth every year, stuff like that, so I think I'm going to take a massive following up this time."
And what exactly can the Welsh fans expect? Well, according to Marshman, a good old fashioned scrap.
"I honestly feel that I'm the best me that I've been. I can't wait to get in there and put on a show. I've honestly never been in a boring fight, I'm always a bloody mess."
Comments
comments