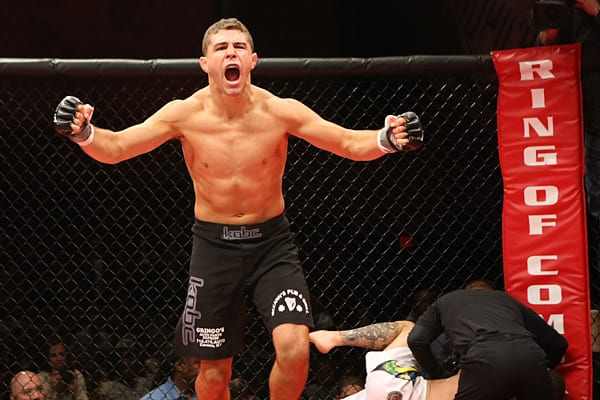 Al Iaquinta wasn't happy with the UFC before Saturday night in Nashville, and he certainly isn't after the weekend.
The New Yorker made his return to the organisation after two years away from the sport following injury and a contract dispute, but it certainly wasn't a harmonious meeting. After knocking out Diego Sanchez in the co-main event with a brutal punch, Iaquinta was dismayed to find out he didn't win a bonus for the victory from the UFC.
He was, to put it mildly, unimpressed.
"If I was in my hotel room, something would have been broken at that point," Iaquinta said, speaking on MMAFighting's The MMA Hour.
"Just not winning the bonus," Iaquinta said of what upset him. "I don't know if they didn't give it to me because I really didn't deserve it or they didn't give it to me to kind of shaft me, you know? 'Cos they said in the past I wasn't eligible to win bonuses and maybe they're just sticking it to me.
"The whole bonus thing is just ridiculous, the fact that they're giving $50,000 bonuses, it's their little way to control everybody. I don't like it. I don't like the way the whole thing happened."
Instead of Iaquinta, it was Mike Perry who received a post-fight bonus for a phenomenal elbow KO over Jake Ellenberger. But while Iaquinta didn't outright say that his knockout over Sanchez was more impressive than Perry's over Ellenberger, and instead felt that his accumulative performances should entitle him to some form of compensation.
"For a guy that puts it out there like me, they should do… I dunno," he said. "I've never had a boring fight, I come to fight every time, I put on a show. Five fights in a row, four knockouts in the last five. No bonus money, no shit, no nothing. They suck.
"Fuck them."
And the issues aren't necessarily all money related.
One thing that Iaquinta cited as a sore spot was the manner in which the UFC treated him when he was injured. During his absence, Iaquinta told the company that he wanted knee surgery, but the promotion were unwilling to provide him with money for the top-tier surgery that he felt he required. Instead, Iaquinta said the UFC actually attempted to talk him out of the surgery, with organisation's doctors informing him he'd never fight again.
"The UFC have done nothing. They've done nothing for me. They left me high and dry, I had to beg them for knee surgery."
So, it appears that the stage is set for another two year absence for the New Yorker. And, until he feels he gets something laid out to make it worth his while, a return won't be forthcoming anytime soon.
"What I would like is to just be financially set so where if I get hurt and I'm out for two years, I don't have to worry about teaching private lessons to pay my mortgage," Iaquinta said. "Something monthly? Is that crazy? I'm a professional freaking athlete. I was just on TV, Fox Sports 1, co-main event and $50,000 is what I walk away with — are you kidding me?
"This is fucking ridiculous."
—
Comments
comments