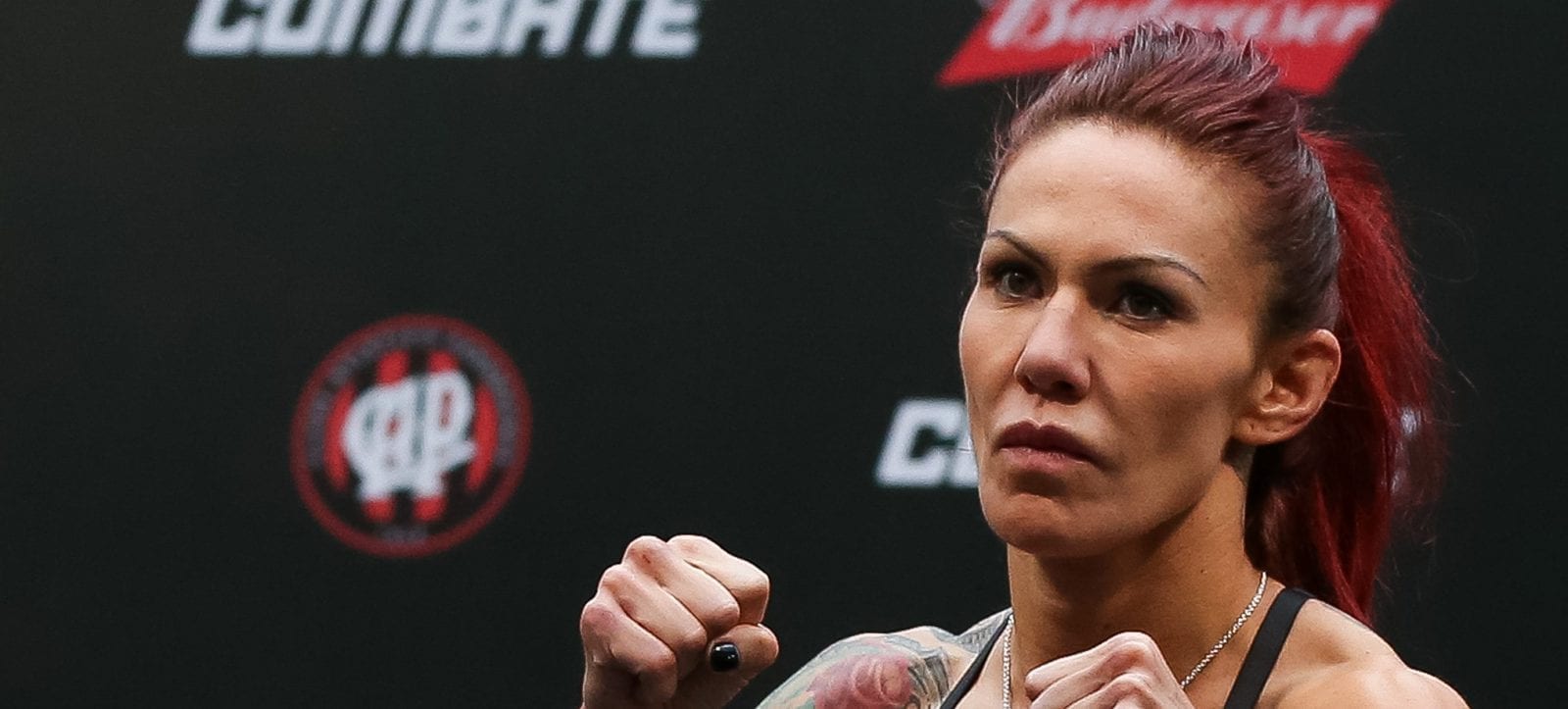 After seven months out of the cage, UFC women's featherweight Cris Cyborg wants a fight.
Well, one might think there's a simple solution. After all, since Holly Holm has been booked against Bethe Correia at an  upcoming event in Singapore, there are just two women officially a part of the UFC women's featherweight division — Cyborg herself, and the champion Germaine de Randamie, who defeated Holm for the belt at UFC 208.
Yet after calling for her shot at the championship (which was originally introduced by the UFC with her specifically in mind), Cyborg has yet to be assured by the organisation that she will meet de Randamie inside the cage any time soon, despite being determined to compete at UFC 214 in July.
"We are not sure who I am going to fight at UFC 214," Cyborg said, speaking to TheMacLife. "I am still hoping to fight Germaine at UFC Anaheim but we are seeing more and more rumors that she is going to be taking some time off and with the UFC where there is smoke there is usually fire.
"I don't think she is avoiding me, but I think fighting is not a priority for her right now. I am hearing she has other concerns in life right now and is going to be taking sometime to focus on those areas that are needing her attention before returning to the Octagon. She is a muay thai legend and finished her career undefeated. In MMA she has already had several great performances, and has even dealt with the experience of losing and coming back to fight.
"I think a fight between myself and GDR would be one for the fans. It is a great matchup between two powerful strikers. I believe I have a more ways to win the fight, and think at the end of the match fans would see why I have remained unbeaten 10 years."
While a Cyborg – de Randamie title fight would seem like a foregone conclusion, de Randamie has been almost entirely radio silent since winning the title in February. Although the Dutchwoman had made mention of requiring hand surgery, it seems as if it's something else that's keeping her from in-ring activity.
Re: GDR, her immediate future is up in the air. Not likely for 7/29. Maybe 4th quarter 2017. Even been some talk of vacating. All TBD.

— Ariel Helwani (@arielhelwani) April 28, 2017
While that fight is what makes the most sense, time outside of the ring has left Cyborg impatient and de Randamie or not, she intends to compete at UFC 214 on July 29. And as such, she's calling on the UFC to introduce another female featherweight into the organisation.
"If GDR is not able to fight UFC 214, I think it would be a great opportunity for the UFC to sign another featherweight to the promotion. With Julia Budd already signed to Bellator it would be a great opportunity for the UFC to bring Megan Anderson into the promotion from Invicta," Cyborg said.
"Considering Holly had lost two in a row and GDR was ranked #10 at 135-pounds before her fight, this bout could be viewed as a true unification of the world title considering I vacated the Invicta FC belt [when I was] ranked #1 in the world at 145lbs, gifting it to Megan Anderson who is currently ranked #3."
In spite of her enthusiasm to get back into the Octagon, there is still something of an underlying issue between Cyborg and the UFC.
Her prolonged absence, once again, brought her and the UFC brass into conflict, with UFC president Dana White having stated that the fighter had declined two bout agreements. For her part, Cyborg maintains that she had merely asked for more time to recover from a pair of particularly gruelling weight cuts.
Add in a brief USADA saga that was eventually cleared up, and it still feels as if the pound for pound best female fighter in the world hasn't quite been embraced by the promotion as much as she could have been. For instance, there aren't many fighters who receive bizarre jabs from official UFC Twitter accounts.
@sergvegal @criscyborg Este evento no está agendado aún. Por cierto a Cyborg se le ofrecieron antes dos peleas de campeonato en 145lbs y una en 135, rechazó todas

— UFC Español (@UFCEspanol) April 24, 2017
Recently, in response to a fan comment on social media regarding Cyborg, the UFC Espanol account posted: "by the way Cyborg was offered before two bouts of championship in 145lbs and one in 135, rejected all" (translated via Google).
But regardless of the general unprofessional tone, Cyborg is more concerned with what she considered misinformation being spread.
"I'm really not sure what the UFC verified account was trying to say," she said. "I have never turned down a fight in my career. I may have asked for a different fight date, but there isn't one female fighter in the world I would be afraid to fight. Last year I fought 3 times in 8 months.
"I had already agreed to face Holly Holm at UFC Brasilia, however her management was unable to come to terms, and when the UFC asked me to fight GDR in Jan I explained my body was still recovering from the two extreme weight cuts to 140 and that I was willing to accept a matchup against either GDR or Holly Holm after allowing myself to complete the doctor prescribed treatment which could have been any date after March.
"I don't know if that tweet is an example of being unappreciated, but I don't think it is an example of promoting an athlete to the best of your capabilities. I can apologize for some of the statements I've blasted on social media, but people have to realize a majority of the time it is me trying to defend things people with a higher profile within the UFC have said about me."
It's another weird layer to add to the odd relationship between the UFC and Cyborg, and at present there's a sense of uncertainty as to where it's all going to end.
Recently, reports emerged that there is a clause in Cyborg's current contract with the UFC that would permit her to walk away as a free agent in October of this year, regardless of how many fights are left on the deal. While she wouldn't confirm the date in question, Cyborg did say that should things stay the same, a move away from MMA's top tier would have to be thought about.
"I'm not sure exactly the date my contract will expire," Cyborg said. "Right now my focus is getting back into the cage. July will be 5 months since USADA cleared me of any wrongdoings allowing me to get back into the octagon, and so that is my focus. I still have 2 fights with the UFC and am hopeful we will be able to communicate our concerns with one another and hopefully both start making money together.
"If we are unable to do this, of course I will consider life outside the UFC, but currently my focus is on preforming my best and giving my fans the most exciting fights I can while signed to the company."
Comments
comments