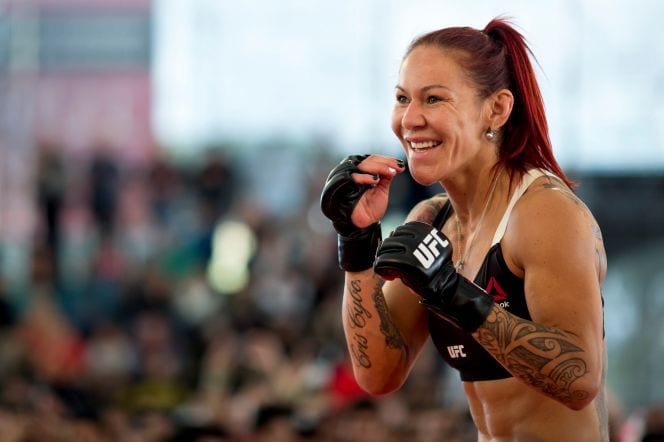 Cris Cyborg made her UFC debut over a year ago on May 14 against Leslie Smith. She fought at 140-pounds, and the struggle of the weight-cut became infamous. At UFC 214, over 14 months since she stepped into the Octagon for the first time, Cyborg will finally be fighting at her natural weight for championship gold.
It's been a long and combative road to get here. At first, it seemed as if the UFC would never come to an agreement with Cyborg about what weight she should compete at. Then, after (resolved) difficulties kept her from fighting for a moment, Germaine de Randamie won the newly introduced featherweight title — only to refuse to fight Cyborg upon her return.
While some might think Cyborg would take de Randamie's fight refusal (and apparent change of division) as an affront, the Brazilian instead seems unaffected.
"When GDR fought Holly she knew the winner would fight me," Cyborg said to TheMacLife.com in an e-mail. "That's why she posed with me in the picture with her belt after the fight with her hands up. Fighting is a personal decision. We all fight for our own reasons. Me and GDR might still fight, it just won't be July 29 in Anaheim."
Cyborg will be facing Megan Anderson at UFC 214. With the signing of Anderson, the UFC appears ready to commit fully to the new division, and now two genuine featherweights will be fighting for the title. While there has been much talk over who the winner will face next, Cyborg appears to be happy enough with any opponent — so long as the contest is interesting, and exciting, for fans.
"I'm a fighter I fight. The reality is GDR and Holy Holm didn't make for an exciting fight," Cyborg said. "Holly is now 1-3 in her last 4 fights and GDR was #10 at 135 before that fight. Fans are educated now and the UFC has so many events that they only put money behind a few fighters. Holly Holm and GDR barely did 200,000 PPV buys. I will fight anyone, but I'm at a point in my career where I want fights that will be exciting, fights the fans want to see and fights a promoter is going to build up leading to the event."
While many are happy to see Cyborg compete against a natural 145'er, some have suggested Anderson won't be able to compete with the level of skill Cyborg brings to the table. According to Cyborg, that's not necessarily fair — although she's excited about the prospect of an exciting brawl.
"Megan is a girl much bigger than me and has won her last four fights by KO or TKO," she said. "She's Invicta FC champion and isn't going to make fans who pay watch 2 rounds of 10 combined strikes. She likes to bring the action and so do I. I think this fight will give me the opportunity to finally be awarded my first fight bonus by the UFC."
That's not the only opportunity Cyborg's hoping for.
The Brazilian's relationship with the UFC has been repeatedly contentious and challenging. Along with the weight issues have come inappropriate comments from the promotion's figureheads and a general sense of unprofessionalism.
Cyborg believes that with her division finally in place, the two sides can finally begin business in earnest — particularly after she cements herself as one of the best in the world.
"[At UFC 214] the UFC will finally have who the fans call the best female fighter in the world as UFC champion," Cyborg said. "The fact that GDR was champion at my weight while ESPN and Fox Sports ranked me #1 pound for pound in WMMA was a problem for the UFC and not me. Hopefully after the fight I will finally get my respect as a champion from the organisation. It would be nice to see my name included with other female fighters like Joanna Champion and Amanda Nunes on their Pound for Pound fighter rankings.
"I am ready for the UFC to promote me."
Comments
comments