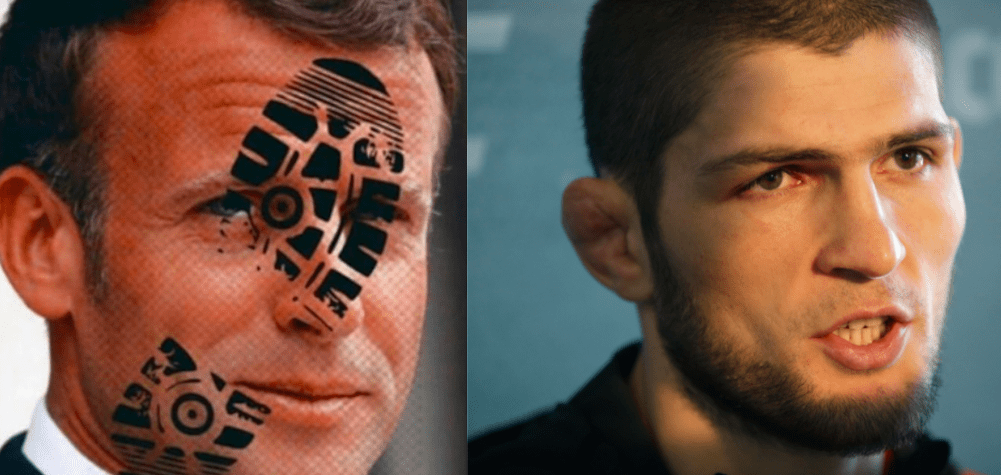 Well-known Russian socialite and former presidential candidate, Ksenia Sobchak, has criticised Khabib Nurmagomedov's recent attack on French president Emmanuel Macron and says that it could be interpreted as an "instigation of violence" against him. 
On Friday, Nurmagomedov posted an edited image to Instagram of a boot-print emblazoned across Macron's face along with with a message in which he was fiercely critical of the French leader. This comes after France raised their terror level to 'maximum' following recent killings said to be linked to ongoing furore regarding religion and freedom of speech.
Earlier this week, three people were stabbed to death in Nice in an incident described by Macron as an Islamist terrorist attack, while schoolteacher Samuel Paty was beheaded by a Chechen refugee outside of Paris in recent days. The deaths are thought to be linked to the publication of an image of the Prophet Muhammed in satire publication Charlie Hebdo. Publishing images of the Prophet Muhammed is forbidden within Islam, while Macron has defended Charlie Hebdo's right to free speech.
"May the Almighty disfigure the face of this scum and all his followers, who, under the slogan of freedom of speech, offend the feelings of more than one and a half billion Muslim believers. May the Almighty humiliate them in this life, and in the next. Allah is quick in calculation and you will see it," Nurmagomedov wrote, via translation.
"We are Muslims, we love our Prophet Muhammad (peace and blessings of Allah be upon him) more than our mothers, fathers, children, wives and all other people close to our hearts. Believe me, these provocations will come back to them, the end is always for the God-fearing."
However, Ksenia Sobchak — who competed against Vladimir Putin in the Russian's presidential election in 2018 — doesn't endorse Khabib's comments.
"Khabib, you are a hero for many young people in Russia who treat you as a role model. Recently you made many Russian people proud of their country because of your win," Sobchak wrote in response to Nurmagomedov on Instagram.
"I respect your religious devotion, you have the right to believe and to love whoever you want. But don't you think that your recent comments directed at the French president might be interpreted as an instigation of violence against Macron? Even though he has never spoken against Muslims, he just condemned Islamic radicalism and terrorists who committed murders – which are regarded as deep sins in the Koran, aren't they?
"I wonder whether it's possible to express your opinion in a less aggressive and more friendly manner? We are all people regardless of our religion and culture. Isn't it possible to live in peace regardless of our convictions and faith."
Nurmagomedov — who is a devout Muslim — has frequently criticised cultural events inside of Dagestan which he feels are inappropriate to his religion. In 2018 a rap concert in Dagestan was cancelled following criticism of the event from Nurmagomedov, with Russian performer Igor Krid saying he received several threats on social media afterwards.
"I understand that some songs that contain love lyrics might not be liked by you, but you have to respect the opinions of others," Krid wrote to Nurmagomedov at the time.  "Supporting the wave that goes against artists' visits, because they aren't liked by you personally – that doesn't seem right. We are not calling for anyone to boycott your fights. That would be ridiculous."
Comments
comments