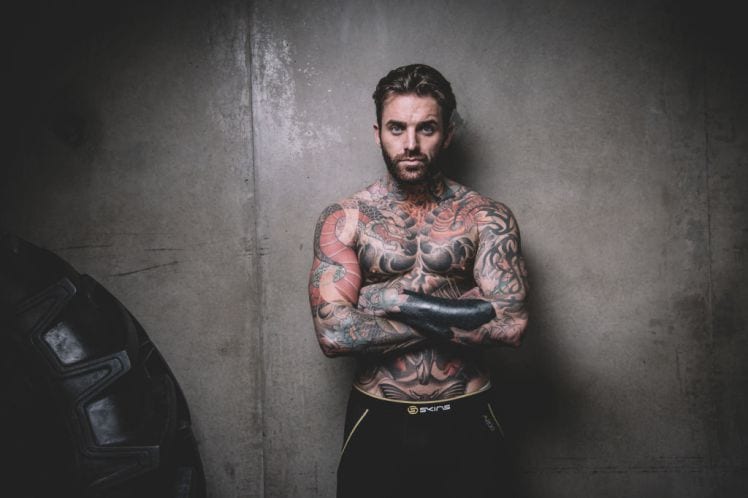 Aaron Chalmers, the British reality TV star who transitioned from a career on the small screen to one in mixed martial arts, has hung up his gloves.
The Bellator fighter, 33, who went 2-2 under the promotion's banner (and 5-2 overall) shared news of his retirement in an Instagram post late Thursday in which he also confirmed that he has been sober for six months after giving up alcohol.
View this post on Instagram
"I'm at a new gym with amazing people around us, everyone's got the same mindset," Chalmers said on the social media platform. "We've left MMA behind. MMA is now a thing of the past. We're on to a new challenge, a new target, a new goal, and I couldn't be happier.
"Anxiety is non-existent. I don't have the fear when you wake up after drinking beer, so it's been—I wouldn't even say it's been a long six months, because it's been pretty easy. I literally put my mind to it, I put my mind to it six months ago, I switched to a new gym four months ago, and that was the game-changer. Being around people who are superior athletes, is the only way to put them, has just put my mindset to just train, train, train and be healthy."
Chalmers began his pro career in 2017 and scored first-round finishes in each of his first four fights. He tasted defeat for the first time in 2019 when he lost via heel hook submission to Corey Browning. He rebounded in what would be the final win of his MMA career when he defeated Fred Freeman by  second-round triangle choke.
His last fight came in Dublin almost exactly a year ago when he was outpointed over three rounds by American wrestler Austin Clem.
"We're putting MMA behind and focusing on a new goal," Chalmers added in his Instagram statement. "So roll on the next six months and keep your eyes tuned because there's gonna be some news coming, hopefully very soon."
It remains to be seen exactly what is next for Chalmers but he has stoked rumours of a move to the WWE in recent times, and has also expressed an interest in competing in boxing — where he could presumably score some hefty paydays amid the new trend of social media stars moving into the prizefighting arena.

Comments
comments