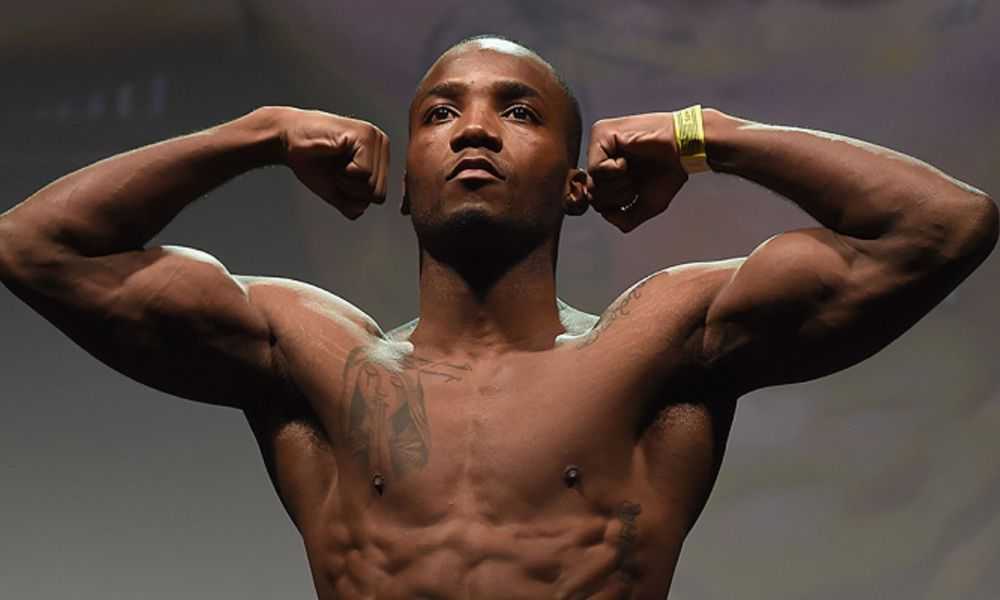 Leon Edwards has, for some time now, seemed like the forgotten man at 170-pounds.
The Birmingham man has wracked up eight consecutive wins in the talent-rich welterweight division but has, so far at least, been denied the type of eliminator bout which could provide him with a route to the world title bout he craves. His last three wins were impressive ones, defeating former lightweight champion Rafael Dos Anjos in July of last year and Gunnar Nelson and Donald Cerrone before that — but according to Chael Sonnen, Edwards has done everything necessary to ascend to the top of the division except for making the fans demand it.
"Poor Leon, if anyone, deserves something good to happen, it is him," Sonnen said of Edwards to Ariel Helwani (via Bloody Elbow). "So I feel like we find a way of getting his name out there but the third time is the charm, partner. You've asked me this three times now and I am finally going to answer it: Leon Edwards does everything right except make himself interesting.
"There's another guy in the same weight class that does the same thing: His name is Neil Magny. The only time in a matchmaker's meeting that these guys' names are even brought up is when Sean Shelby is flipping through the contracts and says, 'oh we owe this guy a fight, who should we put him with?' Well, let's put him with somebody really hard, because they're a really hard guy and only a really hard guy is going to do that fight. So it appears that both of these gentlemen (Magny and Edwards) do a good job of listening to their coaches. They appear to have the skills and the X's and O's of the unified rules down to a pat. It also appears that there is nobody at a seat at that table that's got their hand on the pot someway or some level of percentage, that has any type of creative control.
. @arielhelwani keeps asking me about Leon Edwards. Finally just gave him what he wanted. pic.twitter.com/NIrfVTGv4S

— Chael Sonnen (@ChaelSonnen) September 4, 2020
"You want to have a title fight or a big fight, the first thing you have to be is interesting! Both of those guys are great fighters, but they don't bring any interest to the table. Leon Edwards coming out and calling for a fight that anybody that has the sense knows he isn't going to get, not only wastes a media opportunity, but it makes him look like he doesn't have power in this sport. The worst thing you can be in this sport, is powerless. The absolute worst thing you can do is call for a shot, in front of Sports Center, and not get it.
"How do you not have all those deals done behind the scenes before you come up with the idea to take credit for it being your idea. Both of those guys are missing. I don't blame either of those guys. But somebody is at the table somewhere that doesn't have any creative control. 'Well, you know I think Robbie Lawler, he likes to get inside Neil so you've got the long arms and you need to keep him at bay'. We've got enough of those guys! Who sits down at the Neil Magny table and comes up with something interesting? The same person that sits at the Leon Edwards table and does it, Ariel. This guy (hand gesturing a zero), nobody!
"Those guys know how to fight, man," Sonnen added. "Those guys are awesome. Those guys are skilled. I think they are getting better. By the way, I don't see a ceiling for either one of them. Are they both going to go on to become world champions? Maybe. Are you aware that Neil Magny just won his seventeenth career UFC fight at welterweight? Are you aware that the only person to ever win more fights at welterweight is the greatest of all time, in the letters of GSP? That is how good this guy is. He just doesn't ever think that maybe instead of doing this jab with a kick behind it, maybe I should be… interesting!"
Edwards was scheduled to fight Tyron Woodley in London earlier this year before the bout was cancelled due to the impact of the Coronavirus pandemic. He has also regularly called for a fight with Jorge Masvidal following their backstage altercation at a UFC event (also in London) in March 2019 — but neither Masvidal nor UFC matchmakers have expressed an interest.
As Sonnen proposed, a fight with Magny does appear to make sense on paper — and while it isn't necessarily the 'glamour' bout that Edwards has been chasing, his inactivity (which, again, isn't Edwards' fault) means that he will likely have to put in at least one more star-making performance to up his notoriety, lest he continually be regarded as the odd man out in the UFC's welterweight fold.
Comments
comments