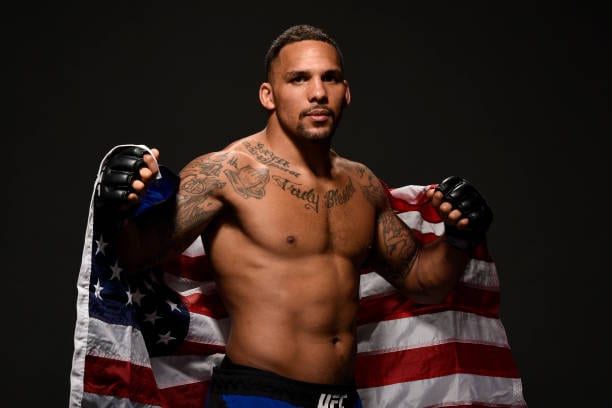 UFC middleweight Eryk Anders, who faces Lyoto Machida in the main event of Saturday's main event in Brazil, required an extra hour's dispensation to make the middleweight limit of 186-pounds in this morning's early morning weigh-ins at the UFC host hotel in Belem.
Anders tipped the scales at 187.9-pounds in the allotted two hour weigh-in period but was allowed an extra hour by CABMMA, the Brazilian governing body of mixed martial arts, due to his status as a main event fighter. This ruling is common place with several combat sports commissions in the United States, such as in New York.
In order to qualify for the extra hour window Anders had to weigh-in within two pounds of the middleweight non-title limit of 186-pounds. It is understood, via Guilherme Cruz of MMAFighting.com, that the fighter hotel had problems with hot water on the eve of the weigh in which would have caused problems for several fighters in their weight cutting practices. It is reported that Lyoto Machida's team did not object to Anders being given the extra hour.
Anders weighed in with ten minutes to spare at 186-pounds.
Co-main event fighter Pedro Munhoz, who faced John Dodson on Saturday night in a bantamweight contest, registered a weight of 140-pounds, some four pounds over the non-title weight limit. In the third instance of a fighter missing weight, Michel Prazeres weighed 161-pounds for his lightweight bout opposite Desmond Green — five pounds over the weight limit.
Per Cruz, Green vs. Prazeres has been made official as a catchweight bout while the UFC have yet to announce if Dodson vs. Munhoz will go ahead.
Update on UFC Belem fines: CABMMA has the right to take 10%, but decided not to, so Dodson and Green will full 20% (if the fights happen, it's not decided yet). If they lose to Munhoz and Prazeres, they will receive extra 20% from their opponents' win money. Great move by CABMMA.

— Guilherme Cruz (@guicruzzz) February 2, 2018
UFC Belem Weigh-In Results:
MAIN CARD
Lyoto Machida (186) vs. Eryk Anders (186) *Anders required extra hour dispensation to make weight. Initially 187.9-pounds.
John Dodson (135) vs. Pedro Munhoz (140) *Munhoz missed weight by four pounds.
Priscila Cachoeira (126) vs. Valentina Shevchenko (125)
Desmond Green (156) vs. Michel Prazeres (161) *Prazeres missed weight by five pounds, bout commuted to catchweight.
Marcelo Golm (247) vs. Timothy Johnson (263)
Thiago "Marreta" Santos (185) vs. Anthony Smith (186)
PRELIMINARY CARD
Tim Means (171) vs. Sergio Moraes (171)
Damir Hadzovic (156) vs. Alan Patrick (156)
Douglas de Andrade (135) vs. Marlon Vera (136)
Iuri Alcantara (136) vs. Joe Soto (135)
Deiveson Figueiredo (126) vs. Joseph Morales (126)
Polyana Viana (116) vs. Maia Stevenson (116)
Comments
comments