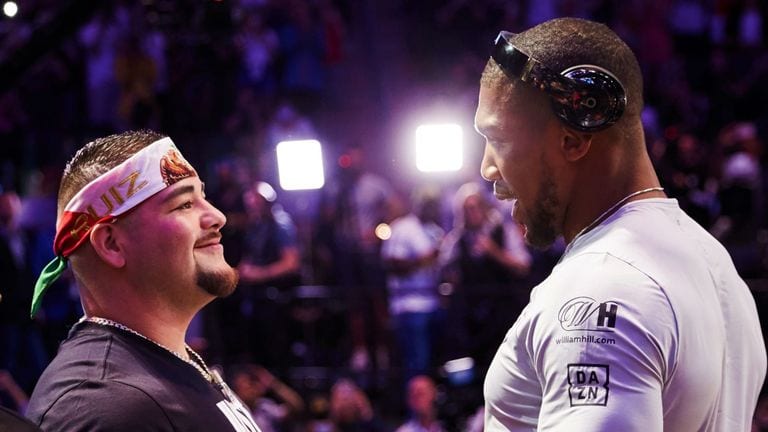 Andy Ruiz says his rematch with Anthony Joshua will not be taking place in Saudi Arabia. Joshua's promoter Eddie Hearn says it will, or Ruiz is going to find himself in court.
Ruiz made his first comments on the announced rematch, which is supposedly scheduled for December 7, during an Instagram live video session on Wednesday evening.
"I know everybody's talking about the fight and all but we got the real news coming soon," he said. "The fight is going to happen soon. I'm trying to give hope, give motivation to all my people. Of course [we're fighting again]. It's going to be on my terms, our terms, we're going to bring it back here in the United States."
After those remarks began spreading, Hearn spoke with Sky Sports and informed them that should Ruiz continue with this line of thinking, he could expect some serious repercussions.
"The contract for the rematch was signed prior to the first fight," Hearn said. "They are both signed at the same time. There is no other contract. We have to let him know the time, date and venue which we have done. That's it. They are contractually bound for the rematch.
"There are no conversations between the two teams about not doing the fight. I don't perceive a problem. He signed a contract with us that he was absolutely over the moon with, that gave him the opportunity of a lifetime. He will 100% honour that contract.
"His choice is to have a legal battle that could put him out of boxing for years, or to defend his belts for a lot of money against a guy he has already beaten. There isn't any doubt he will take the fight.
"Any messing around and Ruiz Jr will lose belts and he won't want to do that. We expect the IBF, WBA and WBO belts to be on the line. There are mandatories due but, in our opinion, Ruiz Jr is within his rights to have a voluntary defence. That defence is against Anthony Joshua."
Comments
comments