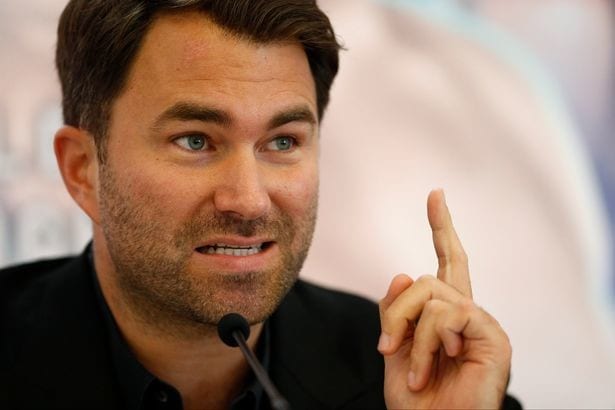 Anyone who watched Darren Till's entrance at UFC Liverpool can see there is a hint of stardom about the 25-year old. Combine that with his solid, if controversial, win over Stephen Thompson and the UFC look to have a new big name in their ranks.
Certainly in England, which just saw British MMA icon Michael Bisping retire, Till's introduction to the top tier of the welterweight division is a welcome sight. The UFC's show in Liverpool was completely built around Till's blossoming star power, and with that event in the books, it seems the next step is to send him to the fighting capital of Las Vegas.
But according to British boxing promoter Eddie Hearn — the man who has help build Anthony Joshua into a star — the UFC should perhaps consider stepping away from the usual trajectory of hometown fight-Las Vegas next, and instead should continue to put events on UK soil.
"Till is a blessing for them because they have a very good UFC fighter from Liverpool, which is a right touch for them," Hearn said, speaking with IFLTV. Packed out arena, great atmosphere. … I know Till missed the weight but he's a star, mate. He's brilliant for the UFC, great for fight sports. They're going to have a lot of fun with Darren Till.
"I would keep him in Liverpool for as long as they can," Hearn continued. "The Scousers won't travel like — they will travel, but you know Conor — there's a lot of Irish in America. Don't get me wrong there are Scousers in America but not in the same way.
"Listen, I don't know anything about the UFC business, they're doing a brilliant job. They're geniuses, they know what they're doing. If it was me, I'd want to keep him in Liverpool."
—
Comments
comments