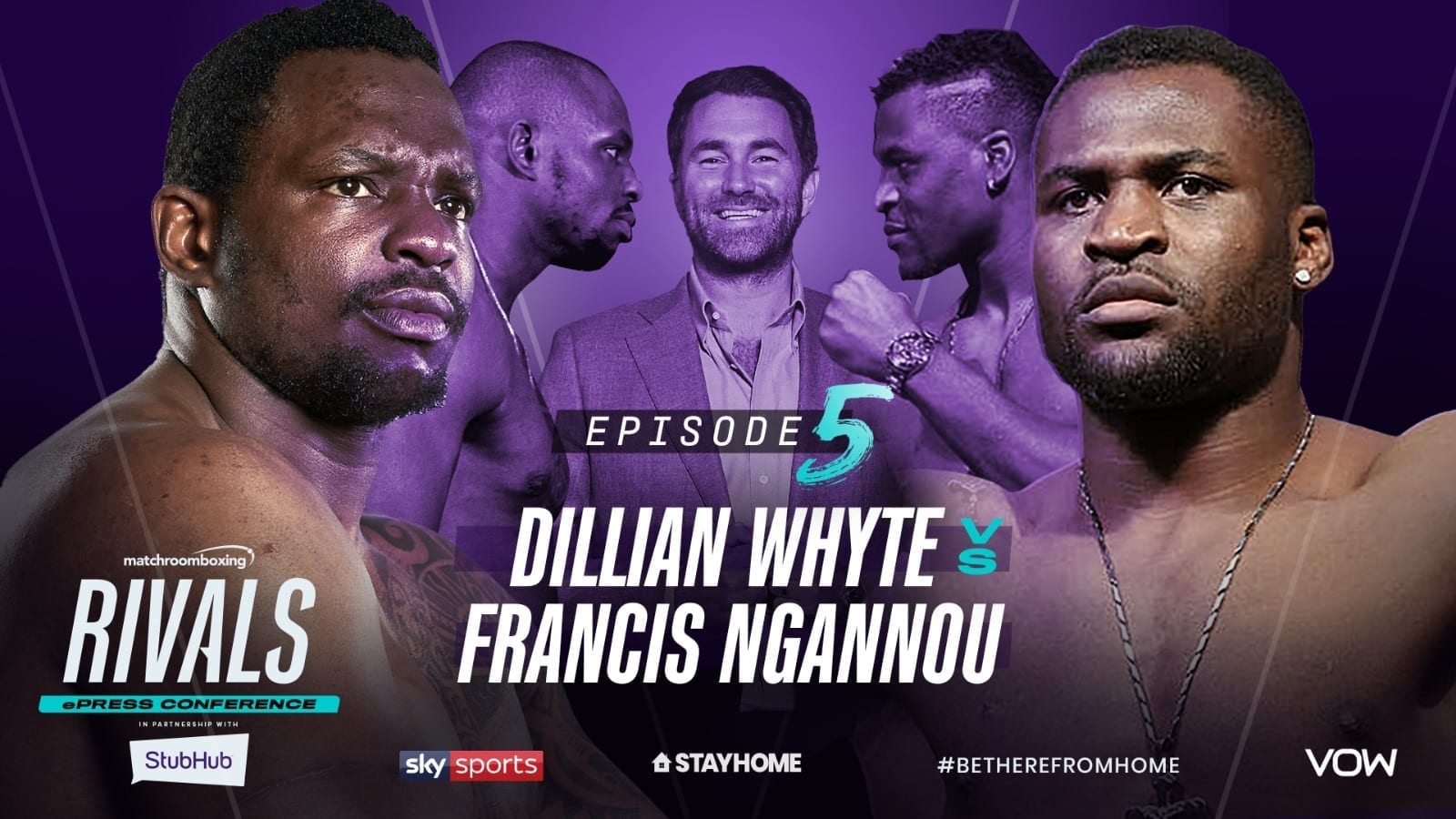 It's probably fair to say that Eddie Hearn hasn't had a great deal to do while sport has been at a standstill during the coronavirus pandemic and perhaps that explains why the Matchroom Boxing chief is continuing to stoke the flames of a potential boxing match between Dillian Whyte and Francis Ngannou.
Whyte, whose sole defeat in the boxing ring came against current world champion Anthony Joshua several years ago, has issued several messages on social media in which he stated he was open to the possibility of a fight with Ngannou, even saying that he would consider taking the fight in a mixed rules format.
Matchroom even went as far as scheduling a joint interview between Whyte and Ngannou last weekend, which Hearn says didn't see the light of day once he received a text message from Dana White.
"We did it and then the press release follows, 'Eddie Hearn to stage press conference with Whyte and UFC star Ngannou," Hearn said to iFL TV.
"All of a sudden we got a phone call from Team Ngannou, 'Oh, you can't put it out, we didn't tell the UFC about it. I said, 'How can you not tell the UFC about it? Anyway we were due to [release] it the next day, and Dana messaged me with a screenshot of the press release and he said, 'What's this?'
"I said, 'No, no, all it is is an interview.' He said, 'Our team didn't know anything about that. I said, 'I'm really sorry, I expected him to tell you, do you want me to pull it down?'
"He just said, 'I'd rather do something all together. I didn't wanna fall out with him and I don't think their promotional team were overly pleased that they didn't know anything about it. In hindsight, we probably should've told them about it, but I just expected Ngannou to do that."
As for the interview itself, Hearn said that Whyte took pleasure in trying to get under Ngannou's skin.
"I've still got the footage, we may even put it out with the UFC. It's quite good, there's one bit in there. Dillian Whyte was on a bit of a wind-up and told Ngannou that Joe Joyce dropped him in sparring, and that Sam Jones [Joyce's manager] told him. And Ngannou went absolutely berserk, berserk. Said he's going to phone Sam Jones now."
Undefeated British heavyweight Joyce recently posted footage of him training with Ngannou and speaking to Sky Sports, only had the highest of praise for the UFC heavyweight.
"Let me tell you something about Ngannou – he can box at a high level,' Joyce's manager, Sam Jones, said. "We were going to spar inside the cage – we had no problem doing that, as long as it was just boxing. But he said no, and he came to our gym in Vegas.
"Ngannou was standing in a weird stance. Then just stood upright and started throwing huge bombs at Joe's head. It took Joe a round to work him out. Ngannou and Joe went eight rounds of holding their feet. It was the most entertaining spar I've ever seen Joe in.
"They went to war. They traded right hands for fun. Ngannou was throwing his right hand from his boots. Ngannou has a great chin. Everybody knows Joe does too. I told Ngannou after the spar, 'You can [come to boxing] no problem, this is easy for you'.
"Ngannou is one of the strongest men you will ever see in any combat sport."
Comments
comments