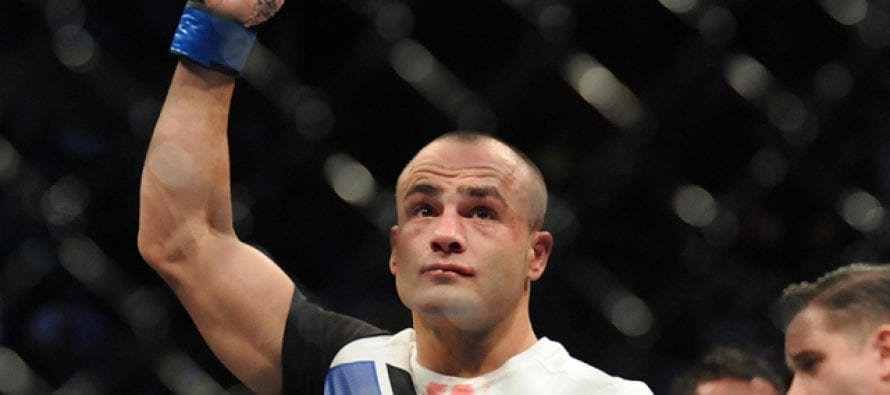 Next weekend, Tony Ferguson and Kevin Lee will meet at UFC 216 to face the other for the UFC interim lightweight title.
The contest was put together after current champion Conor McGregor fought a boxing match against Floyd Mayweather in one of the biggest contests in history. With McGregor likely absent for a while longer, the UFC elected to put two of its top 155-pound stars against each other to set a placeholder until McGregor returns.
But, while Lee and Ferguson are no doubt grateful for the opportunity, it's fair to say that not everyone is enthused by the match up — even previous McGregor opponents like Eddie Alvarez.
Speaking on the UFC Unfiltered podcast, Alvarez (a former lightweight champion himself) was asked his opinion on the upcoming title fight. His response? He's not convinced it's more than a way for the UFC to pass the time until McGregor returns.
"It seems like with the interim belt, and the guys that are fighting for the interim belt, it just seems like [the UFC] are throwing shit at the wall and hope it sticks," Alvarez said. "It seems that is where we are. I mean, the champion is not fighting, so these are the things you have to do while you wait. So we're just trying to make a matchup here."
Alvarez himself is set to face the latest star at lightweight, Justin Gaethje, after the pair of them coached against each other on the latest season of The Ultimate Fighter. For Alvarez, he believes that contest will end up showing up the interim title.
"In the meantime, me and Justin Gaethje is the biggest matchup in the lightweight division, the most exciting, even before this interim belt with these guys who are fighting," Alvarez said. "Me and Justin will be the most exciting fight in the division in the next couple of months until the champion comes back to defend the belt. So, right now were just buying time and trying to make a move because we are all going to be chasing after him."
Comments
comments