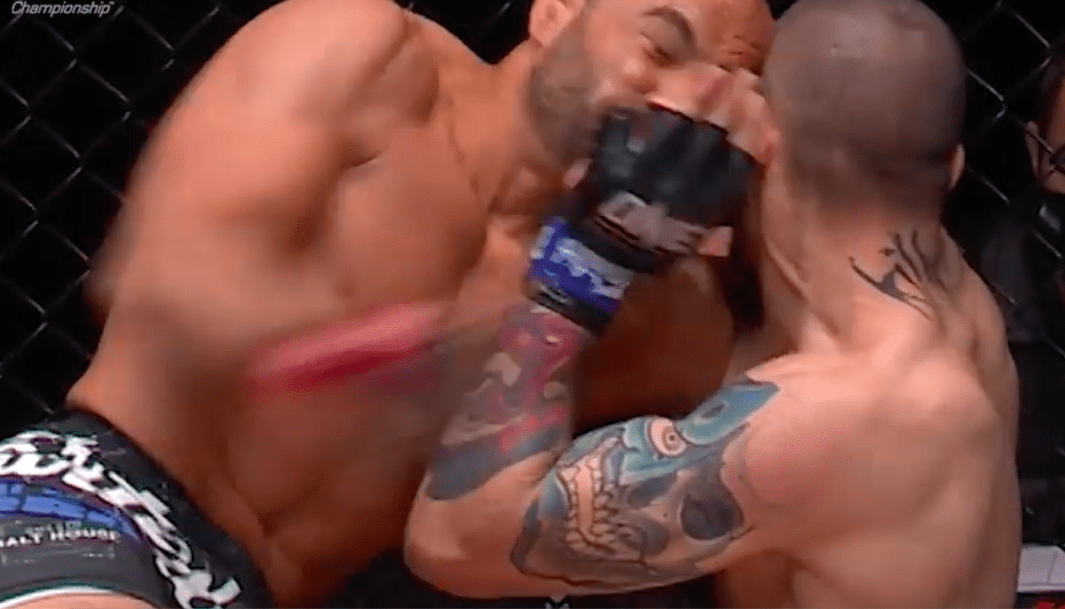 Eddie Alvarez maintains that the health and safety of his Wednesday night opponent Iuri Lapicus is paramount but after reviewing footage of the incident which led to his disqualification loss for strikes to the back of his opponent's head in the event in Singapore, the former UFC and Bellator champion says that he isn't happy with the referee's call. 
Alvarez was dominant early against the then 14-1 Lapicus, securing an early takedown before powering down with a barrage of strikes. Some of these clearly landed behind Lapicus' ear (which most officials deem legal) but the Moldovan fighter then turned his head away, exposing the back of his head as Alvarez continued.
He was briefly warned by the referee before the fight was called and the victory handed to Lapicus. Afterwards, an emotional Alvarez said that he accepted the referee's version of events and that he was most concerned about the health and safety of his opponent — but after reviewing the footage, his concern for Lapicus remains but his perception of the referee's call less so.
"I went back to my room and I was able to watch the clip of the fight and see everything and it was a bad call on the referee's side," Alvarez told the media afterwards. "The American media is in uproar right now and so are the American fans. I'm going to respectfully ask them to look back at the video and reverse that call.
"All that matters is Iuri's safety. That's it right now. That he's going to be OK. When I go back, I'm in the cage, so emotions run high. The referee, people make bad decisions when emotions run high. I think it was a bad call. I'm mixed emotions right now."
View this post on Instagram
Lapicus was stretchered from the cage following the fight, with ONE boss Chatri Sityodtong later confirming that he was taken to hospital where they were, at the time at least, awaiting CAT scan results. Sityodtong added that his vitals were stable.
"I just want to make sure that they correct this," Alvarez added. "It's not right. What happened, it's not right. After looking at the tape and after seeing the outpouring of the media that's basically saying something went wrong in there today on the judging side, I've just got mixed emotions about everything.
"I don't see how it's not overturned. I don't discredit anyone based on what happens inside that cage. Referee, judging, all that. It's high emotions and you have to make decisions based on a split second and I think the replay and after everybody goes back and looks will see everything was done righteously. I won fair and square. I'm not trying to anger anyone or climb up any trees.
"I won tonight. I won. I just hope that they go back and look at it and reverse the decision. I've made decisions in my past and I'll be a man and step up and say that it was wrong. But tonight, I won. I think the American media and a lot of media know that I did and are pissed off about it."
Comments
comments