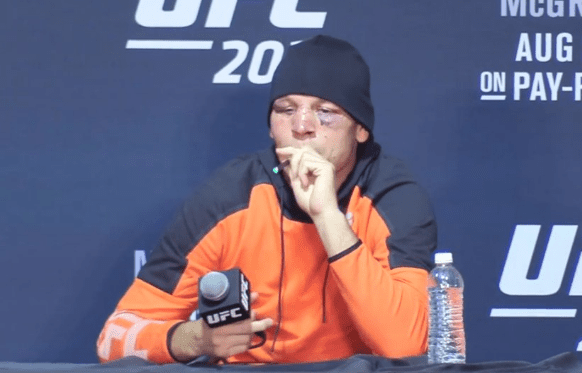 It is now around 18 months since Nate Diaz's decision loss to Conor McGregor in the UFC 202 main event in Las Vegas in August 2016 and, despite attempts from the UFC, the younger Diaz has yet to accept any terms offered to him for a return to action.
Diaz's longtime boxing coach Richard Perez has stated that his fighter will only consider a mammoth offer in the region of $15 million to sign a new bout agreement.
Speaking with Submission Radio, Perez said: "The UFC doesn't want to give Nathan the money. 15 million. Easy. Cause, I mean, he's a star right now. Woodley's trying to fight everybody. They're being too greedy with the money right now, it's hurting a lot of fighters. They're gonna probably make, oh gosh, pay-per-view is going to be just out there because they're curious on what Nathan's going to do with Woodley.
" I mean, he's got the belt. So what? The belt don't mean nothing anymore. It's about who you're fighting (if you want) to make the money. So they're making big money, they're pocketing a lot of it. You guys know it too. Oh gosh, it's ridiculous."
Diaz recently teased his return on social media by saying "Step your games up. I'll see u around may,June", but Alvarez isn't buying it.
If You only want Connor there's nuttin wrong wit that but Keep it 💯 wit everyone @NateDiaz209 , don't call out the entire division when You don't want No work from anyone of Us . It's as phony as your whole character You fucking Dork . You changed man #Fakenews

— Eddie Alvarez (@Ealvarezfight) January 26, 2018
FYI @NateDiaz209 had a common friend text me a message he sent Saying He ain't trynna fight me because I Lost's to Connor and he beat Connor on some mma Math shit . I was as shocked as You are right now …. You forget RDA ragdolled You . #Natesfakenews

— Eddie Alvarez (@Ealvarezfight) January 26, 2018
Speaking on Monday's edition of The MMA Hour, Alvarez elaborated on his thoughts.
"When he said something, I just thought it was like — it was the equivalent of a guy, there's a bunch of fighters in a group and some tough guy yells out, 'You're all a bunch of b*tches!' and walks away. He had to expect at least one guy to turn around and say something," Alvarez said.
"And when you say that, you've kinda got to be ready to fight someone, or at least one of the guys that you called out."
"That was my thinking. We were all called a bunch of b*tches and the guy just walks away and he doesn't say sh*t. It was really odd. I had a tough time understanding why he would even say anything. Why would you say something if you're not willing to fight anybody? So that's why I tweeted again, I kinda understood — this guy just wants to fight one guy. So if you just want to fight one guy, just kinda talk to that one guy. Don't yell at a group of guys.
"The more I think about it, the more I'm like: When Conor takes a break, Nate takes a break," Alvarez continued. "Conor's like, 'I ain't fighting until August,' and Nate's like, 'Well, I ain't fighting until July,' or some sh*t. I guess his ego doesn't let him say, 'I just want to fight Conor.' Just say it. Like, just be honest with everyone. If that's who you want to fight, there's nothing wrong with that. But don't call everyone out if you don't have any intention of fighting anybody.
"You're getting a bunch of fans excited who you're just bullsh*tting. If you don't want any work from any lightweight in the division, then just don't say anything to any of the lightweights in the division and everything will be cool. But when you say things like that, you should be ready to at least fight somebody."
You can watch the full interview (via MMAFighting.com) below.
.
Comments
comments