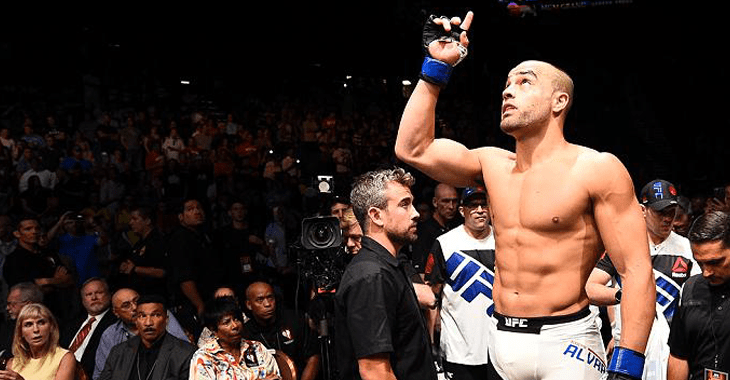 With Nate Diaz having revealed that he is "sick of waiting around" and appears willing to accept a fight in May or June of this year, a list of possible opponents have already been making themselves known on social media — and two of the lightweight division's top fighters are among them.
Eddie Alvarez, the former UFC lightweight champion who is fresh from putting the first 'L' on Justin Gaethje's professional record in December, has said that he would be open to be Nate Diaz's first octagon opponent in almost two years.
Writing on Twitter, Alvarez said that the May/June date would work perfectly for him and added that he would "see you then big guy".
May-June is perfect @NateDiaz209 , see you then big guy 👊🏻 💥#Eastcoastbeastcoast #Ufcmostviolent

— Eddie Alvarez (@Ealvarezfight) January 24, 2018
While this fight looks ideal on paper, it is likely that the UFC will have to undertake some prolonged negotiations with Diaz. The Stockton native earned a total of $2.5 million (disclosed) from his two 2016 bouts with Conor McGregor. Last year Richard Perez, boxing coach to both of the Diaz brothers, suggested that Diaz wouldn't come back for anything less than a $15 million paycheck — a figure that the UFC would likely balk at.
In addition to the above, Diaz knows that his stock for a third bout with McGregor very much depends on him being successful in his next bout. A loss to Alvarez, who has the type of aggressive, grinding style which has caused him trouble in the past, could likely curb the enthusiasm of both the fans and UFC brass in making the Diaz/McGregor rubber match which is, at time of writing, potentially the most lucrative bout on paper available to UFC matchmakers.
However, Alvarez isn't the only potential foil to Diaz after his comments on Instagram last night. Kevin Lee, the former UFC interim title challenger, went for a slightly different retort to Alvarez, which you can see below.
Put yo money up then @NateDiaz209 Or shut the fuck up and go back to riding bikes around the park https://t.co/g0DrhPY2zR

— Kevin MTP Lee (@MoTownPhenom) January 24, 2018
Whichever way this goes down, it can't be denied that the UFC's lightweight division is a more entertaining thing when Nate Diaz is involved. Will a third McGregor bout ever transpire? You get the impression that it will only come (in the short term, at least) if Diaz is able to get past one of the division's top fighters. Alvarez and Lee certainly fit that bill.
Your move, Mr. Diaz.
Comments
comments