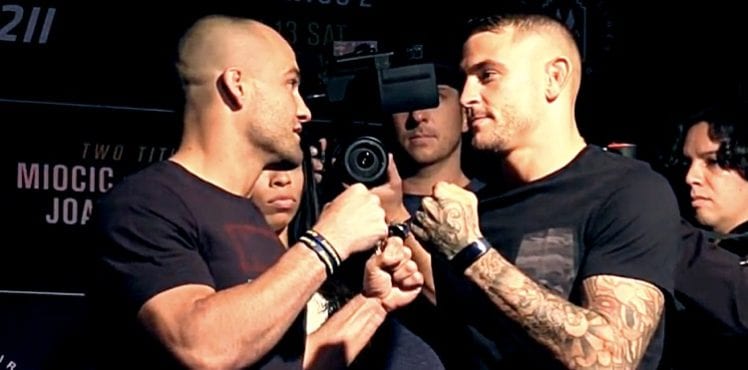 This weekend, Eddie Alvarez and Dustin Poirier meet in a rematch of their short, but epic encounter from May 2017.
Fans may remember the first fight ended in confusion and controversy, with the bout ruled a No Contest after Alvarez kneed a grounded Poirier in the head. Since then, the duo have been eyeing each other for another contest, while simultaneously being involved in some of the most violent lightweight fights of all time.
It's that shared violent streak that Alvarez believes is the main attraction for fans to tune in this weekend to watch go number two, as he once again puts his self-promoted title of 'most violent man in MMA' on the line again.
"My title and the only title that matters in the lightweight division is I'll be defending my title of being the most violent man in the sport," Alvarez said on The MMA Hour, Monday. "It's the only title that matters. So that's what's at stake — I'm a battle-axe. Even when I lose I win, man. I enjoy fighting. I enjoy everything about it. The suffering. The good, the bad, the ugly. It's in my blood."
And should the former UFC lightweight champion exit Calgary on Saturday the winner, he has one thing in mind — a return to title contention, and a re-imagining of a pop culture moment.
"The Philadelphian will now fight the undefeated Russian, like what is it? Rocky V," he said. "We're going to re-live that movie again. The only guy who can take out the undefeated Russian is me. I'll dominate Dustin Poirier, I'm going to hit him, if he doesn't go out unconscious when I hit him, then I'll choke whatever's left of him. Then I'll fight the undefeated Russian and win my title back."
–
Comments
comments