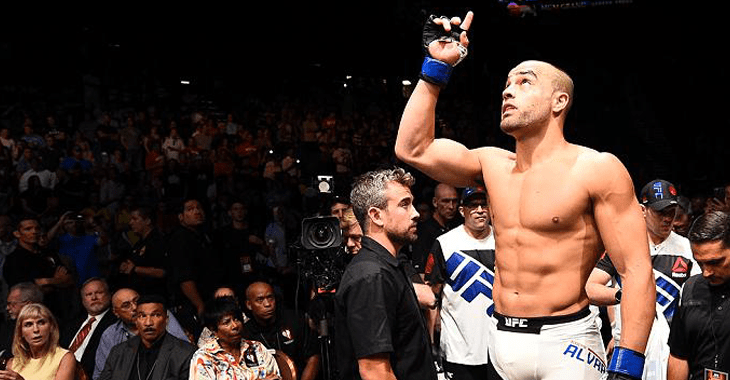 Unlike a lot of people on this planet, Eddie Alvarez really enjoys fighting.
The former UFC lightweight champion was just involved in one of the best fights of the year against Justin Gaethje at UFC 218 in Detroit, Michigan. Having been hyped as a potential war, Alvarez and Gaethje lived up to expectations after going back and forth for three brutal rounds.
In the end, Alvarez won the contest, handing Gaethje his first career defeat. Now, with just one more fight on his current deal with the UFC, Alvarez' future is circling around two things. First, get an improved deal with his promotion. Second, continue being in crazy fights.
"This is my last fight, I've one fight left so I'm going to sit down with the boss man," Alvarez said, speaking on MMAfighting's The MMA Hour this week. "He text me on the way home from the way home from the Justin Gaethje fight and I think we're gearing up to talk about a mega fight, so it shouldn't be long before we sit down and I talk to Dana about and we thrash it out about doing something big.
"I should be heading out to Vegas in the next couple of weeks. I don't know if we're going to let the holidays settle down and then do it, or maybe [talk] before. I'm excited about the future and I'm excited about putting some stupid ass fights on, like some crazy big fights for the fans."
While Alvarez didn't throw out any names, the self-proclaimed 'most violent man in the UFC' appears to have found himself a niche on which to build. While former opponent Dustin Poirier is desperately searching for a rematch, Alvarez seems uncommitted to such a proposition.
Instead, he just wants to get in there and have some good old fashion scraps.
"We will see, look, all I can say is, you know, stay tuned," Alvarez said. "Whenever I'm stepping in that Octagon I just feel nice and comfy now and everybody is going to get to see that. That same exact product that you've just seen.
"That same violence that same finishing scene coming because I'm just finding my groove. They thought they were going to bring some young guy in and take my name, and the truth is I'm just getting warmed up."
Comments
comments