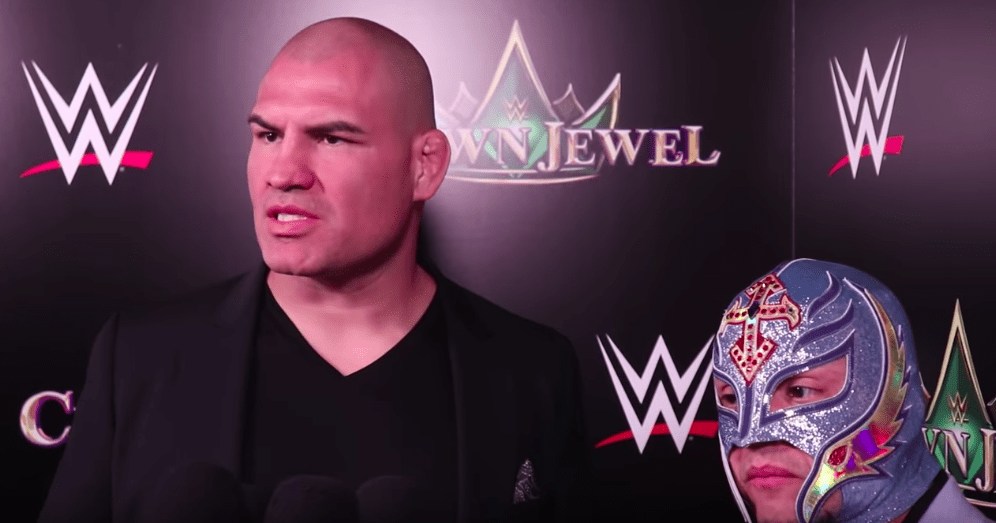 Cain Velasquez, the man sometimes described as the best heavyweight mixed martial artist in history, had admitted that his time in the cage has come to an end.
His recent retirement from the UFC comes after a litany of injuries reduced the former heavyweight champion to just two fights since the summer of 2016 but perhaps his decision to step away was expedited by a recent resurgence in his love of professional wrestling, something which has led Velasquez to being a full-time member of the WWE roster.
He is currently involved in an angle with Brock Lesnar and will have his first match with the company against the man he defeated to win the UFC heavyweight title in 2010 on October 31.
View this post on Instagram
"To the UFC, my family, friends, and all the fans, thank you for the past 11 years," Velasquez wrote on Instagram. "Thank you to all my coaches, teammates and agents. I am so blessed to have been able to have a career doing something I absolutely love. I knew from the time I was a junior in college I wanted to be a fighter and after graduating from college, I set off on my journey of becoming a fighter with the goal of being UFC Heavyweight champion.
"There are few people in this world that can say they have achieved what I have, and I am forever grateful for the opportunities and position I held being a part of the UFC. With my official retirement from the UFC, it's time for the next chapter. A year ago, when I went to my first WWE show, I fell back in love with a sport that I had watched and participated in since I was a child.
"From that moment, I have been doing a crash course on all things that relate to pro wrestling. I've been training at different gyms, going to shows and watching more matches than I would like to admit, but I can honestly say I eat, sleep and breathe wrestling now. The contract is signed and I'm on my way to my next goal which is Universal Champion. WWE Universe, thank you for welcoming me with open arms."
Velasquez retires with a professional record of 14-3, with six of those fights being official UFC heavyweight title bouts. He recorded wins against the likes of Lesnar, Junior Dos Santos, Antonio Silva and Travis Browne — the latter of which was his final career win. He most recently fought in February of this year where he was beaten inside 26 seconds by Francis Ngannou.
His UFC debut came in 2008 in what was just the third professional bout. Prior to that, Velasquez had serious trouble getting fights due, in part at least, to his reputation as a future all-time great. He was defeated for the first time in his first title defence against Junior Dos Santos in November 2011 but would later reclaim the title in a rematch before defeating JDS for a third and final time in 2013.
Additional goals and objectives now stretch out in front of Velasquez as he embarks on the next phase of his career, such as joining a very small list of competitors who have won titles in both the UFC and WWE. He gets his first chance to do just that on October 31 when he squares off with Lesnar one more time, but with a whole new set of stakes involved.
–
Comments
comments