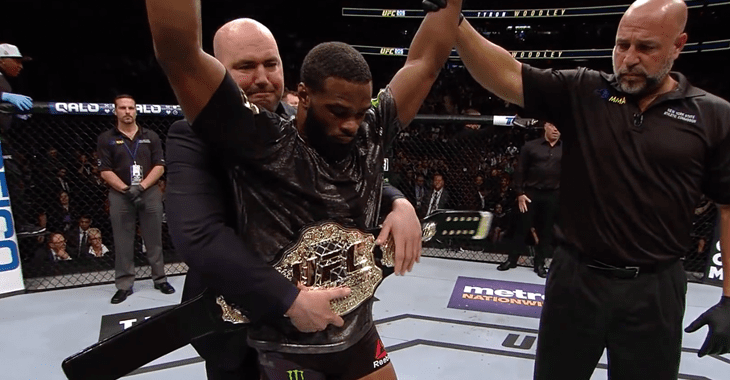 Former UFC champion Tyron Woodley says that the Jake Paul experiment in professional boxing will meet its inevitable conclusion in late August.
It has been confirmed that Woodley will challenge Paul on August 28 in what will be the latter's fourth professional boxing contest which will come months after Paul earned a first-round knockout win against Woodley's friend and training partner Ben Askren.
However, logic dictates that Paul will certainly be facing an uptick in competition when he steps into the ring against Woodley in what will be the first of the so-called Problem Child's partnership with Showtime given that Woodley's striking prowess has long been considered far superior to that of Askren's.
It has also been confirmed that the fight will take place at a weight of 190-pounds and both competitors will wear 10oz gloves.  The fight will be Paul's fourth in the boxing ring after he has already defeated another YouTuber in his debut, as well as ex-NBA player Nate Robinson and Askren.
Woodley, meanwhile, brings a legitimate striking threat with him to the ring but will enter the fight on the back of four successive losses in the UFC after dropping fights to Kamaru Usman, Gilbert Burns, Colby Covington and most recently Vicente Luque. His most recent win in the UFC came in September 2018 when he defeated Darren Till by second-round submission to defend his UFC welterweight title.
And Woodley appears more than confident. Speaking to ESPN's Ariel Helwani, Woodley said the following: ""Easiest fight of my career & biggest purse of my career all in one night. Basically, they brought me in to take out the trash. Can't wait to shut this b*tch up. This is getting done for the culture, the whole MMA/boxing community, to rid this guy of combat sports."
Comments
comments