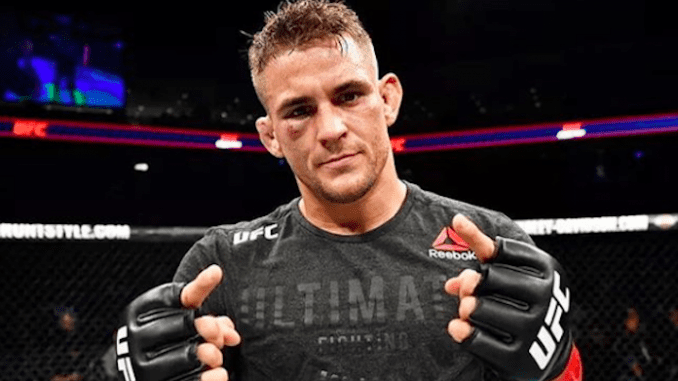 Dustin Poirier will wake up on Sunday morning with a gold belt in his hotel room, an extra $50,000 in his bank account and a face which bears the battle scars of a 25-minute war with a UFC world champion.
And, as the new interim UFC lightweight champion expressed after the fight to assembled media, his unanimous decision victory against the incredibly game Hawaiian reminds him of what it was the drew him to professional prizefighting in the first place.
Poirier started strongly against the 145-pound champion, hurting Holloway early with a series of precision strikes. His four year tenure in the UFC's lightweight division appeared to translate to extra power compared to divisional novice Holloway, whose volume striking was there as always — just perhaps not with the same element of force that Poirier was able to harness.
"That's what fighting is to me," Poirier said of the scrap (via MMA Fighting). "That's the purest feeling of fighting to me. I'm hurt, I'm busted up, he's hurt, he's busted up, we're both digging down, who wants it more? That grit of fighting is addictive, I'm scared of it. It's a very weird thing.
"I was throwing power shots a lot — every punch was almost a power shot — and brawled a little bit more than I wanted to, but when you fight a guy who throws volume like that and you try to match his volume and disrupt his timing, I knew that the workload was gonna be a lot," Poirier said of the contest. "I knew that mentally coming into this fight, we prepared for it in the gym, and I knew it was gonna be a gun-slinging match."
And that it was.
"One time my mouth was bleeding and I spit, and I spit on him and he said, like he knew that I did it on accident, I didn't aim at him but it just might have hit him," Poirier said. "Man, this is a fistfight, you might get some spit on you. When I hit him with a good shot he would say, 'That was good' or start clapping.
"When I kneed him in the face, before he started bleeding, when he picked his head up from the knee, I saw the gash and I said, 'Gotcha.' It was just – it was a battle."
In the end the result was a relatively conclusive one for Poirier who now establishes himself in the upper echelon of the UFC's lightweight frame. Bigger fights await against some of the division's established stars and with a recent fight record which shows wins against Holloway, Eddie Alvarez, Justin Gaethje and Anthony Pettis, it is difficult to argue otherwise.
Comments
comments