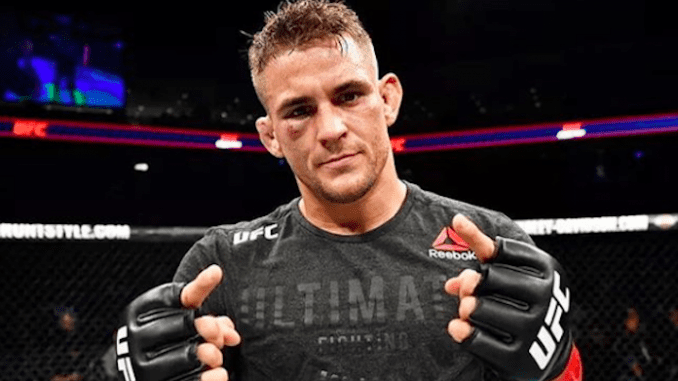 Dustin Poirier was understandably devastated by his loss to Khabib Nurmagomedov at UFC 242, but as we've come to expect from the UFC lightweight, he's going to dust himself off and keep fighting on.
Poirier was defeated by the 155-pound champion in Abu Dhabi two weeks ago, and was so hurt by the experience he even insinuated he could consider walking away from mixed martial arts. Now, some nine days later, the contender is back on the horse and ready to go.
"I'm just going to keep grinding, keep getting better," Poirier said, speaking on the Ariel Helwani MMA Show. "At the same time, it's a love-hate relationship. I love this so much that sometimes I hate it. It just keeps breaking my heart, but I keep coming back. … I can't stop. I will not stop. I know I have greatness in me, man. I just have to keep grinding."
And wouldn't you know it, Poirier has a name in mind already: a rematch with Conor McGregor.
"Why not? If we're respecting the rankings, I'm number two, he's number three. Everybody else is pretty booked up," Poirier said. "It makes sense. We've both lost to the same guy in a world title fight. … Financially it makes a lot of sense for me. If the guy's not going to fight, they gotta take him out of the rankings or he's just going to keep log-jamming an already top heavy division.
"I want to fight before my birthday, January 19. I want to have another fight before I'm 31 years old. That's just a goal of mine."
Poirier and McGregor fought back at UFC 178 some years ago, where McGregor defeated Poirier in the first round. Poirier doesn't see why that should keep them apart.
"If it's that easy just do it again," Poirier said. "Try and beat your record. What you get me in last time? Two minutes? Try and get me in 1:30. Let's see if you can do that."
Comments
comments