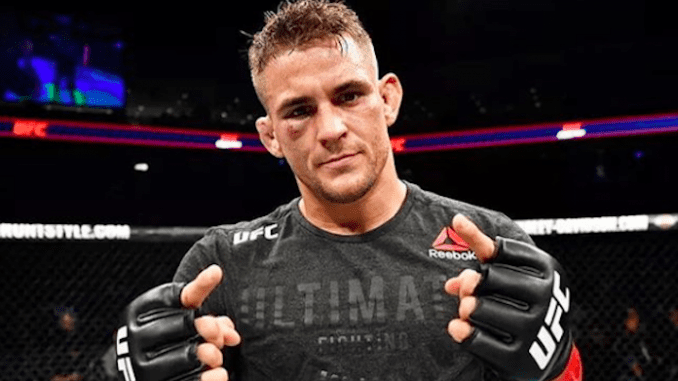 When it was announced Nate Diaz was set to return to UFC action for the first time in two years at the upcoming UFC 230, you'd forgive fans for being surprised.
Set to face Dustin Poirier on November 3, Diaz has played nothing but hardball with the UFC since his loss to Conor McGregor at UFC 202, and so just to see him set to fight again was something of a surprise.
Now, unfortunately, Poirier has been forced to withdraw from the contest injured, meaning Diaz' hiatus will continue on for a while longer. But according to Poirier, who was involved in discussions as to whether or not the bout could have been made into a main event, Diaz never really seemed that committed to the contest in the first place.
"Nate was being hard to deal with, I believe," Poirier said, speaking on The MMA Hour. "Every weight class. They offered it at 155-pounds, he wanted it at 160-pounds. I agreed to that, then he kind of negotiated himself out of the main event spot, they offered us the main event. I accepted. Nate over negotiated, we lost the main event. It was just back to back, day after day of him trying to have his way, honestly."
As such, he's not exactly bullish on the chances Diaz vs. Poirier will get easily rescheduled.
"I would [agree to the fight again] but so much stuff went on behind the scenes," he said. "This guy — even if everything went smooth, I'm not sure this fight would have went through with this guy. But if the UFC wants it, I'm down. If they can make it happen, I'm down."
Not that 'The Diamond' is necessarily heartbroken over it. While Diaz represents one of the biggest names in the sport of MMA, Poirier is quick to remind fans that he doesn't see a pay increase just because he sees an opponent with a higher stature.
"A lot of these fans are blowing me up on social media saying I blew an opportunity, your big pay day or stuff like that," Poirier said. "They don't understand how contracts work. I'm not getting pay-per-view points to fight Nate Diaz, I don't know what everybody thinks is going on here.
"I took this fight, not because it's a big money fight, but because it's a big opportunity — that turned into a huge headache with all the stuff he was playing."
–
Comments
comments