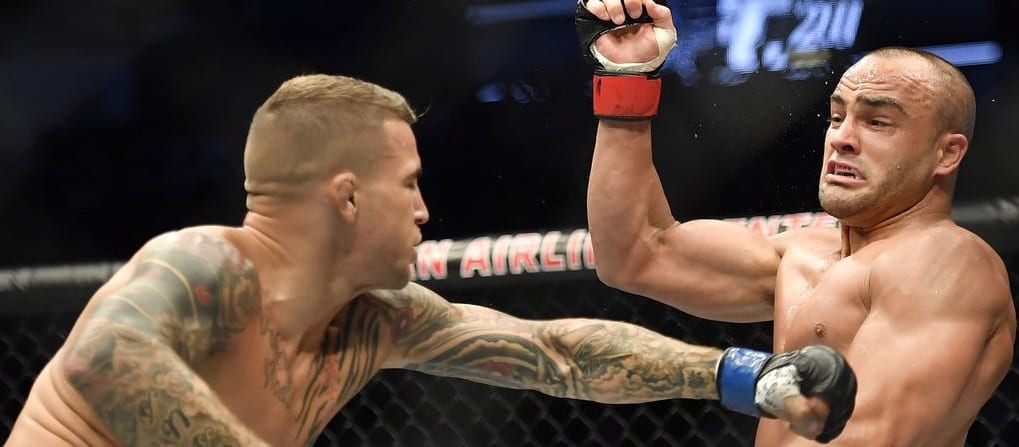 Dustin Poirier has a word of advice for this UFC Glendale opponent this weekend, Justin Gaethje: switch up his fighting style if he doesn't want an early retirement.
Gaethje, a former Professional Fighters League champion (formerly WSOF), is 1-1 in the UFC since making his debut last year, taking part in two wild brawls against Michael Johnson and Eddie Alvarez. His style of walk-forward aggression has earned him a career record of 19-1 but, as Poirier explained to MMA Fighting, his style brings with it a very specific sell-by date.
"It's not (a sustainable style), and I said that when he was with World Series of Fighting," he said. "I'm good friends with (ATT coach) Mike Brown, who's also an MMA mastermind. He understands fighting and understands styles and matchup, and I've told him that before, that this guy is going to have to switch his fighting style or he's going to have a short career. He's going to have a bunch of fun paydays and a bunch of memorable fights, but it's not going to last.
"Once it starts going downhill, it's going to go down fast for him, fighting like that. Of course he's going to catch guys here and there, win some bonuses, and like I said, have some great fights that people are going to remember. And it seems like that's what he's fighting for. He loves that, and that's awesome."
Poirier, though, has different expectations for his own career and a gold belt is the ultimate goal.
"I want to be a world champion, man," he said. "And I want that to be a byproduct of me fighting at my best. I'm not going out there looking to see who's willing to lose more blood, because I'll die out there. I know I would, but I don't want that. I want to go in there and have smooth fight and show my skill."
We will find out this weekend in the main event of UFC Glendale exactly whose style comes out on top — and it will be a fascinating watch.
Comments
comments