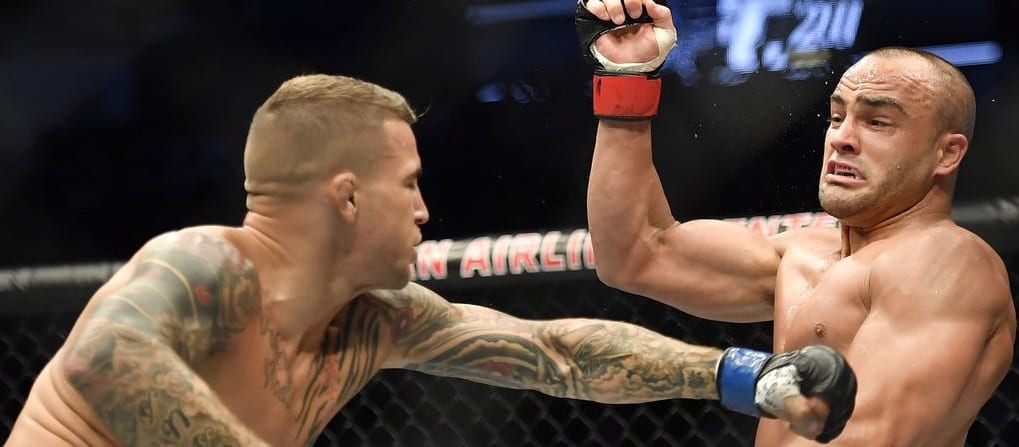 Prior to the premature ending of Saturday's UFC 211 scrap between Dustin Poirier and Eddie Alvarez, it was looking very likely that the battle of the two top lightweight contenders was bordering on being a contender for 'Fight of the Year'.
Then, in the blink of an eye and the thrust of a knee, it was all over. An illegal knee thrown by Alvarez towards the end of the second round led to referee Herb Dean, after consultation with the UFC's Vice President of Regulatory Affairs, to call the bout as a 'No Contest' but instant replay of the incident appeared to show that Alvarez threw two knees in the incident, both of which seemed to be illegal shots to a downed opponent as per the previous set of unified rules that govern the Texas Department of Licensing and Regulation (TLDR).
The Texas governing body for combat sports has yet to adopt the new MMA rules introduced in January which have changed the definition of what it takes to be considered a 'downed opponent'.
The waters of the current MMA rule set are very much muddied and Poirier, who was arguably up two round to nil when the foul took place being denied a disqualification victory, it appears that he and his manager look set to appeal Herb Dean's decision. Dean classified the knees as "accidental", which led to the decision to call the bout a no contest.
Speaking with MMAFighting.com reporter Ariel Helwani, Poirier's manager indicated that an appeal would be made to overturn the result but Poirier also appears to want the opportunity to seek closure for the bout in a more traditional way — and it seems that a certain common opponent of them both wouldn't mind see it either.
Yo @Ealvarezfight we have to run it back.

— The Diamond (@DustinPoirier) May 14, 2017
Raise both their and hands and fuck it. Good fight.

— Conor McGregor (@TheNotoriousMMA) May 14, 2017
.
Comments
comments